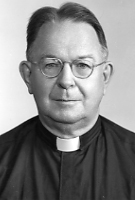 Father P. Francis Lynch, MM
Born: May 27, 1908
Ordained: June 14, 1938
Died: September 13, 1979
Father P. Francis Lynch (Taiwan) died at 11:45 A.M. on September 13, 1979 in Phelps Memorial Hospital. He had not been feeling well and, on Sunday the 10th, the day he was to begin the Mission Renewal Program, he was admitted to the hospital.
Father Lynch was born on May 27, 1908, in Pittsfield, Massachusetts, the son of Patrick Joseph Lynch and Margaret Anna Phelan. He attended Dawes Grammar School and St. Joseph's Grammar and High Schools. In September of 1928 he entered the Venard, and on June 14, 1938 was ordained to the priesthood and assigned to the Wuchcow Mission.
Known to many of his friends as 'Jasper' or 'Jappie', he was always a hard-working missioner. He spent his first six years in the Wuchow Mission and in 1945 he was awarded the Emblem for Meritorious Civilian Service for his work as a Contract Chaplain in 'unencircled Free China'.
After the war he returned to his mission of Tanchuk, Kwangsi. In 1951 his mission was closed up. He was held prisoner for one day and later expelled from the mainland. That same year 'Jasper' began his work in Taiwan where he labored until the present day.
On September 14th there was a wake service led by Father John McKernan. The Mass of the Resurrection was celebrated on Saturday the 15th and burial followed in the Maryknoll Cemetery. Fr. John J. Mihelko was the main concelebrant and Fr. Frank Daubert preached the homily.