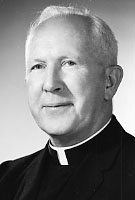 Father Patrick C. Toomey, MM
Born: December 31, 1898
Ordained: June 17, 1934
Died: May 25, 1968
Patrick C. Toomey was born on December 31, 1898 in Waterbury, Connecticut where he attended public and parochial schools. After graduation from the Commercial High School in 1917 he worked as a stenographer for two years and for a newspaper until August of 1924 when he entered the Venard. He took the Perpetual Oath of the Society in 1933 and was ordained on June 17, 1934.
After ordination Father was assigned to Bedford as Procurator. In May of 1935 he was appointed assistant Procurator for the Hong Kong Stanley house. Two years later he was assigned to Kweilin.
Since his return to the United States in 1939 he was in the Development Department where his priestliness and enthusiasm for the work of the missions was an example to all. One of his superiors wrote of him: "Father Toomey is an exemplary Maryknoller, loved and respected by all. He never complains and does his assigned work very well." As the years went on Father Toomey had the cross of increasing deafness to bear.
Father Toomey died suddenly on May 25, 1968. He had been in good general health and active in the Development Department at the time of his death.
His brother, the Rev. John J. Toomey, Pastor of Blessed Sacrament Church in Johnson City, was main celebrant at the funeral Mass celebrated at Maryknoll on May 28. Fr. John Donovan, classmate, preached the homily.