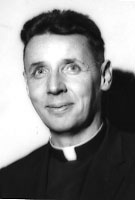 Father Patrick F. O'Donoghue, MM
Born: September 13, 1924
Ordained: June 10, 1950
Died: April 2, 2005
Father Patrick O'Donoghue died at St. Teresa's Residence, Maryknoll, New York on April 2, 2005. He was 80 years old and a Maryknoll priest for 54 years.
Patrick Francis O'Donoghue was born September 13, 1924 in Georgetown, Washington, DC, the son of Mortuner P. O'Donoghue of County Kerry and Catherine E. Lynch of Roscommon County, Ireland. Brought up in the Nation's Capital he attended St. Gabriel's School in Petworth and entered the minor seminary of St. Charles in Baltimore in 1937. In September 1943, after six years at St. Charles where he had his initial mission contacts from yearly talks by Father James Keller and Father John Flinn, he entered Maryknoll Seminary in Ossining for philosophy.
Ordained June 10, 1950, his first assignment was to the faculty of the Maryknoll Junior Seminary in Clarks Summit near Scranton, Pennsylvania. After four years there he received his mission assignment to Japan in 1954. Following language study in Tokyo with the Franciscans at Roppongi, he took up residence in Kyoto at the Villa Maria Student Hostel in Okazaki. Subsequent parish ministry was at Zeze, Fushinii, Kameyama and Kujo, all in the Kyoto Diocese.
Father O'Donoghue spent his mission life in Japan working mostly with young people. Beginning on the first faculty of Notre Dame College in Kyoto, he started teaching in 1961. He took up advanced studies in religion at Catholic University in Washington, DC from 1966, receiving an MA the following year, and continued in the doctorate program specializing in Asian religions. Returning to Japan in 1971, he served five years on the faculty of the International Institute for Studies and Training, a post-graduate program for Japanese men going abroad. During this time he wrote his thesis on Nichiren Buddhism and received his Ph.D. in Comparative Religions in 1976.
The following year Father O'Donoghue moved to the Japanese National University in Tsukuba, Ibaraki Prefecture where he lectured on Comparative Religion and Philosophy. After 13 years at Tsukuba he again returned to Notre Dame in Kyoto and continued in his field until October 1, 1995, when he began his term as Regional Superior of the Japan Region. In 1998 he was re-elected Regional Superior and served until September 2001.
His mission work also includes being editor of The Japan Mission Journal from 1990 to the present. The Japan Mission Journal is the only English Theological magazine in East Asia. Earlier, from 1961 to 1966 and from 1967 to 1969, he was associated with the Maryknoll student English program at Yoki Bokusha no undo (YBU), the Good Shepherd Movement, which at one time involved 3000 young people in Kyoto and Tokyo.
Father O'Donoghue resided in Tokyo and served as pastor for the International Community in Yokohama until June 2003, when an illness forced his return to the United States. He was able to return briefly to Japan in the latter part of 2003, but again moved to St. Teresa's Residence in January 2004.
Wake services were held at 4:30 p.m. on April 6, 2005 at St. Teresa's and at 7:30 p.m. in Queen of Apostles Chapel at Maryknoll Center where Father John Meaney officiated and Father Joseph Nerino read the biography. Mass of Christian Burial was concelebrated in Queen of Apostles Chapel on April 7, 2005 at 11:00 a.m. Father Richard Czajkowski was Principal Celebrant and homilist. Burial followed in Maryknoll Society Cemetery with Father John McAuley conducting the graveside service.