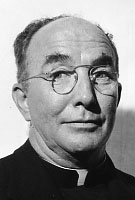 Father Patrick J. Donnelly, MM
Born: March 4, 1906
Ordained: June 5, 1932
Died: February 6, 1978
Father Patrick J. Donnelly died this morning, February 6, 1978, in Taiwan.
Fr. Donnelly was born March 4, 1906, in Philadelphia, Pennsylvania. He studied at Our Mother of Sorrows parochial School, and graduated from West Philadelphia Catholic High School in 1923. From 1923-29, he studied at St. Charles Seminary in Overbrook and joined Maryknoll in Second Theology in 1929. His Maryknoll brother Fr. Francis T. Donnelly had been ordained in 1928 and assigned to Kaying. Fr. Pat Donnelly was ordained June 5, 1932, and assigned to Wuchow in South China.
In 1940, Fr. Donnelly was appointed Society Superior for the Wuchow Mission. He finally returned to the U. S. on furlough in 1944, and in 1945 was assigned to the Venard as Spiritual Director. He was a Delegate to the Third General Chapter at Maryknoll in August 1946, but was reappointed Society Superior and returned to Wuchow by December 1946. He was imprisoned by the Chinese Communists for a month in March 1951, and in January 1952 had to leave China for Hong Kong. In 1953 he served as a chaplain for civilian workers in Greenland, along with our late Fathers Cunneen and Wolott. In January 1954 he was assigned to Taichung, Taiwan. Although he had been working in recent years at Tien Chung Catholic Church, he had served for many years especially at Lo Tsu Catholic Church. Mass was celebrated for Fr. Donnelly on Friday, February 10, at the Po Tau Parish, and he was buried at Lo Tsu Catholic Cemetery.
For the past 30 years, Fr. Donnelly had several serious illnesses. Through it all, illness, persecution, and many other difficulties, he was always (in the words of Bishop Donaghy) "good priest with very strong faith, a dedicated missioner willing to take any assignment."