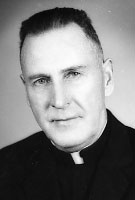 Father Patrick J. Duffy, MM
Born: Nov. 30, 1899
Ordained: June 15, 1924
Died: April 13, 1980
Father Patrick J. Duffy (U.S. – Special Society Unit) died peacefully on Sunday,April 13, 1980 at St. Teresa's Residence, Maryknoll, N.Y. With life and death, these words of Scripture seem most appropriate: "I will raise me up a faithful priest who will do my will all the days of his life."
Born in Rossdiff, Co. Longford, Ireland, on November 30, 1899, Pat was one of three sons and two daughters of Patrick and Margaret Duffy. Pat reminisced of his early days in Ireland: "I can recall the days of my childhood as I wandered along the winding streams, the idea I had of God and the particular high idea of His apostles. I attribute to my mother the first thoughts of the priesthood. It was she who instilled into my youthful mind the glory of God and His sufferings for mankind. My godmother, I was told, on the day of my baptism, offered me as an apostle of God. I remember promising before the Blessed Sacrament that, with God's will, I would be a priest. My age then was about 12."
Early schooling was received at St. Mary's Academy, through four years of intensive studies, both of the Classics and of the Gaelic tongue. Pat mentioned that St. Mary's was famous for "boxing the ears for bad pronunciation."During his studies at St. Mary's, Pat wished to become a Jesuit at Calais, France. Because of his young age, however, his parents blocked this first overt move to the priesthood. He later spent two years at St. John's Seminary in Waterford, of which he said: "No one escaped in class – not even the geniuses – if one was not prepared." During this time the idea of mission again arose, in the appeal of the Irish missions in China. Again his youthful zeal was impeded because of dangerous travel conditions. After St. John's, Pat came to Niagara, N.Y., the journey prompted by his search for mission. For a period of time he investigated dioceses, and then discovered both Theophane Venard and Maryknoll. Pat entered Maryknoll in 1921 and proceeded to ordination on June 15, 1924.
In September of the same year he was assigned to Peng Yang, Korea, the beginning of fifty-four years of foreign mission work, divided rather evenly between Korea and Japan (where he was assigned in 1951 because of the Korean War). He returned to the States in 1979 after a brief stay in Ireland, because of his health.
Several years ago, Pat wrote: "Were it not for Maryknoll, many of us would never have an opportunity to serve God on the missions and to win souls for Christ." 'To serve God' he did, for he was always looked upon as one dedicated to mission, single-minded, who always set the highest example for both his people and fellow Maryknollers. "To win souls for God" he did, for he was exemplary in winning converts by his example even more than by his preaching.
On April 14th there was a Wake Service, and Mass of the Resurrection was celebrated the next day. Principal Celebrant was Fr. John K. Albert; homily and biography by Fr. Gerard L. Beausoleil. The burial followed in Maryknoll Cemetery.
In the last years of his life Pat wrote: "All my life I have lived near the Blessed Sacrament, and would like to continue to do so." As one Superior wrote of him, echoing the judgment of many Superiors and fellow Maryknollers over the years: "Pat is a good man, an exemplary priest, a proven missioner."