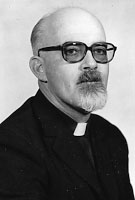 Father Patrick J. Griffin, MM
Born: July 3, 1933
Ordained: June 10, 1961
Died: March 22, 1995
Father Patrick Joseph Griffin died on Wednesday, March 22, at Davao Doctors' Hospital, Davao City, Philippines. He was 61 years of age and a Maryknoll priest for 34 years.
Patrick J. Griffin was born in the Bronx, New York on July 3, 1933, son of James and Agnes Rose Whelan Griffin. He had one brother, John Griffin and two sisters, Agnes Griffin Joyce and Mary Griffin. He attended Cardinal Hayes High School in the Bronx, New York. Patrick entered Maryknoll Junior Seminary, Clarks Summit, Pennsylvania, on June 25, 1951. In 1952 he entered Maryknoll Junior College, Lakewood, New  Jersey. On September 7, 1954 he entered Maryknoll Seminary College, Glen Ellyn, Illinois and earned a Bachelor's Degree in Philosophy on June 10, 1956. On September 1, 1956 he entered the Maryknoll Novitiate, Bedford, Massachusetts and pronounced his first Oath to the Society on June 29, 1957. After completing his studies in Theology Patrick was ordained a Maryknoll priest at Maryknoll Seminary, Ossining, New York, on June 10, 1961.
After ordination, Father Griffin was assigned to the Philippines. He served for a number of years in parish ministry in the Prelature of Tagum including a time as Parish Priest in the parishes of Manay, Nabunturan and Caraga. With the exception of his normal home leave and studies, Fr. Griffin served in the Philippines from 1961 to 1976.
On September 1, 1977 Fr. Griffin was assigned by the Superior General, Father Raymond A. Hill, to the newly established Nepal Unit with a team of four other Maryknoll priests. Fr. Griffin took time for area studies in preparation for his new mission assignment and arrived in Nepal in June of 1978. In a December 17, 1980 letter to the Superior General he wrote about his experience being in Nepal after many years in the Philippines: "thanks to Maryknoll, in the name of yourselves for the freedom of movement you give to the members…. I hope I can recognize the Lord when and where he appears, popping up as he does in some of the most extraordinary circumstances. Keep well and keep all of us here in your prayers and hopefully we will do likewise on this side…. we, here in Nepal ask the El Salvador martyrs to intercede for us all in our stumblings."
In 1988 Fr. Griffin requested an assignment back to the Philippine Region from Nepal. In a letter of October 31, 1988 the Superior General formalized Fr. Griffin's assignment to the Philippine Region effective December 6, 1988. In his assignment letter the Superior General wrote "I am edified by your ability to move from the Philippines to an entirely different situation like Nepal–and again to a Philippine situation which has certainly changed during your time away. You show a flexibility and spirituality for which most missioners, ideally, aspire. In the name of all Maryknollers, I thank you for the example that you give to us."
After returning from Nepal in 1988 Fr. Griffin worked for a period of time in Santo Nino Parish in Malangas in the province of Zamboanga del Sur in the Philippines. Since February 1992 until his death, he served as Catholic Chaplain at the Davao Doctors' Hospital.
Wake services were held March 22, 23 and 24, 1995 at the Maryknoll Society Center House in Davao City, Philippines and a concelebrated Mass was held at St. Joseph the Worker Parish, Sasa, Davao City, on Saturday March 25, 1995 at 9:00 A.M. A memorial Mass will be held at the Society Center, Ossining, New York.