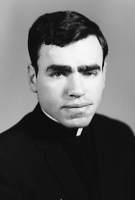 Father Patrick M. Hoffman, MM
Born: January 24, 1941
Ordained: June 8, 1968
Died: April 4, 1989
Father Patrick Michael Hoffman died in Barnes Hospital, St. Louis in the early morning of April 4, 1989. He was 48 years old and a Maryknoller for 34 years.
Father Patrick was born on January 24, 1941 in Springfield, Mo., son of Richard and Catherine (Michaeltree) Hoffman. He had 3 brothers and 2 sisters. He entered Maryknoll as a freshman in high school and attended St. Louis Preparatory Seminary for 3 years and thence to the Venard and Glen Ellyn. Throughout his student years Pat was well liked by all. His supervisor wrote: "He relates well to peers, to authority, to teenagers, etc. A kind, considerate person who is a delight to be with. He functions best in areas of personal relationships." These qualities characterized him through all his priesthood.
Prior to ordination on June 8, 1968, Father Hoffman struggled with a long term illness. The Rector wrote in his recommendation: "It will be well worth while for Maryknoll, for the missions, for the Church, and for Pat himself, if he can offer thirty or more years of service in the Society."
After ordination he was assigned to Japan and served there for about 10 years. He served in the Date Parish and the remote Yubari Parish in Hokkaido. He returned to the States on furlough in 1972 and was granted permission for special studies, receiving a Master of Arts Degree in pastoral counseling at the Graduate Theological Union in Berkeley, CA in 1974 and he returned to Japan the next year. The rest of his time in Japan were spent mostly in counseling work among alcoholics in Tokyo. He considered this a most important mission work and he was, as his superior wrote: "happy, settled and at peace." Pat had a recognized outstanding quality of making friends with people no one else cared to approach the outcasts and deprived poor. He was very human, a sensitive person who functioned best in a sensitive one-to-one relationship. He particularly enjoyed working with people afflicted with some painful disease and was content to bring them a portion of his life and joy. He responded to the feelings and values of others and as a result was much loved and respected by the Japanese people he served.
In July of 1982 he reluctantly accepted recall to the States and assignment to the Development Department. He had fallen ill in 1983 from which he almost fully recovered but it added to his sufferings.
The Mass of Christian Burial was offered for him on April 6 in St. Clement Church, Chesterfield, Mo. and a Wake Service held at the Center on the same night. The funeral Mass was concelebrated the next day and burial took place in Maryknoll Cemetery.