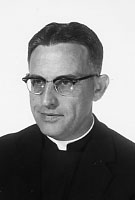 Father Paul J. Duchesne, MM
Born: April 5, 1910
Ordained: June 11, 1939
Died: January 15, 1983
Word was received at Maryknoll, N.Y. on the 15th of January, 1983 that Father Paul Duchesne, after forty-four years of dedicated missionary service, had died in Hong Kong, aged 72.
Paul was born in Cohoes, N.Y. on the 5th of April, 1910, to Delphis Duchesne and Elmina Catelier. Before being accepted as a student for the missionary priesthood in June, 1926 by Fr. James A. Walsh, he was a student at Saint Joseph Parochial School in Cohoes. He entered the Venard in 1927 and the major seminary in 1932. In 1934 he began his Bedford year and was ordained on June 11, 1939, being one of 23 ordained that year. He was assigned immediately to Kongmoon. Seven years later he was appointed by Bishop Paschang as Executive Secretary of the Catholic Social Welfare Committee, at the request of the Kwantung Bishops. At this time Father Duchesne began his long association with the Catholic Relief Services. In February 1951 he arrived in Hong Kong and organized with other mission societies a Receiving Station near the New Territories in order to receive priests, brothers and sisters who were forced to leave China by the Communists. His relief work later took him to Jakarta, Indonesia, to Saigon, Vietnam, and to Taipei in Taiwan. He remained in Taiwan until 1975 when he was assigned to the Special Society Unit, with residence in Hong Kong.
When Father Paul died he was actually in residence on Lainma Island where he was the pastor of a small Catholic community and chaplain to a group of sisters. He was always very sensitive to the needs of the poor. He spent a great portion of his life in doing relief work. He constantly used all his energy and zeal to better the material conditions of the downtrodden in the Far East.
In a letter dated May 21, 1964, Father Patrick O'Connor, a Columban Father, wrote the following about Father Duchesne's activities in Vietnam: "…his activities went far beyond mere distribution of surplus foods. He promoted and took a close, continuing interest in constructive projects, from building hospitals to hog-raising. The rehabilitation hospital for polio victims; new houses for fire victims; the new hospital completed in Kontum, another planned for Dalat; buildings and food-producing projects for the Ben San Leprosarium; engines for fishermens' boats; are just some of the developments he promoted and helped to direct."
Father Paul was buried in Hong Kong on January 19th. A Funeral Mass was concelebrated at Maryknoll Center on the same day, with Fr. John Cioppa as Principal Celebrant and Fr. John Geitner as Homilist.
We are grateful for the gift of Father Duchesne to the Society and for his many years of faithful service to the poor.