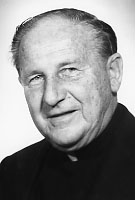 Father Paul J. Sommer, MM
Born: August 4, 1917
Ordained: June 11, 1944
Died: June 11, 1997
Father Paul Sommer died at St. Teresa's Residence, Maryknoll, New York. He was 79 years old and a Maryknoll priest for 53 years.
Father Sommer was born on August 4, 1917 in Boston, Massachusetts, son of Jacob Otto Sommer and Gabriella Louise Novy. He has one brother, Father Leo J. Sommer, M.M. Paul attended Sacred Heart Parish School in Roslindale, Massachusetts, and studied for two years at Boston College High School for two years. He entered Maryknoll Apostolic College (Venard), Clarks Summit, Pennsylvania, on September 7, 1933 and passed on through philosophy and theology studies for eleven years. He was ordained a priest at Maryknoll Seminary in Ossining, New York, on June 11, 1944.
After ordination, Father Sommer was assigned to the Maryknoll Mission in Guatemala, Central America. He was first assigned to Huehuetenango for language studies and, in January 1945, he was appointed Pastor in Jacaltenango, a mountain village accessible only on horseback. Because most of his parishioners were Jacaltecan Indians who spoke little or no Spanish, he learned enough of their Jacalteco language to delight them. He was a pioneer missioner and a successfull organizer of parish projects. He also convinced the local government officials to build an airport in the town and end the isolation for the people.
In August 1952, Father Sommer was appointed Pastor of the parish in Soloma, Huehuetenango. He brought the same drive and enthusiasm to his ministry which consisted of the usual pastoral works, as well as social works of mercy in a dispensary, and helped the farmers improve their crops by using better wheat seeds, fertilizers and methods. He also worked well with the youth and conducted recreational programs, including sports and movies. In November 2, 1955, he was appointed 2nd Consultor to the Guatemala Group Superior. He enjoyed conducting monthly instruction courses for young couples and blessing their marriages. He also completely remodeled the ancient parish church.
On January 1, 1956, Father Sommer was elected Chapter Delegate for the Guatemala Group and attended the 1956 General Chapter at Maryknoll, New York in August. In March of 1956, he was appointed Pastor of the Malacatancito Parish. As in other parishes, he was a successfull administrator, especially among the youth. Besides his parochial ministry he was appointed Econome to the Guatemala Regional Superior on December 4, 1956; and on May 20, 1959 appointed 1st Consultor to the Regional Superior. While on furlough in 1959, he attended an updating course in catechetical content and methods for two months at the Confraternity of Christian Doctrine Center in San Antonio, Texas. He resumed his pastoral ministry in Malacatancito. In 1961, Father Sommer became the Pastor of the El Progreso parish in the Progreso Department, Guatemala. He received the 'Beato Hermano Pedro de Betancourt' commendation from the Guatemalan Government for his service to the people of Guatemala.
In July 1962, Father Sommer was appointed Pastor of Santa Barbara Parish in the city of Santa Ana in El Salvador. In that difficult mission, he successfully organized projects with the men of the parish, especially sports activities which won the confidence of the people. He was successful in the Cursillos de Cristiandad, utilizing Cursillo men and the Christian Family Movement to contact and influence the parishioners. He helped establish retreat days for the diocesan priests with round-table discussions. In August 1968, he was appointed National Vice-Director of the Christian Family Movement in El Salvador. He traveled extensively inside and outside the country spreading the Christian Family Movement. He received a Decoration from the Diocese of Santa Ana, El Salvador on June 11, 1969, for outstanding service.
In 1981, Father Sommer was assigned as Pastoral Administrator of the church in Calle Real, a suburb of San Salvador, where he served until obliged to leave in 1981 when Maryknoll temporarily withdrew personnel from El Salvador because of political disturbances. It was here with Father Sommer that Bishop Oscar Romero performed his final pastoral functions–parish confinnations–the evening before he was assassinated. In November 1981, Father Sommer was appointed Pastor of Parroquia Santa Ana in Guatemala City. In July 1985, the Holy See honored him with the award "Pro Ecclesia et Pontifice" for his missionary work.  At age 65, Father Sommer requested assignment to the Special Society Unit with continued residence and pastoral work in Santa Ana Parish. Through the 1980's, he continued ministry in the inner city among the poor and lower middle class of people.
In August 1991, Father Sommer underwent medical treatment. He made a remarkable recovery, returned to Guatemala and resumed his pastoral ministry. In August of 1992, after 15 years of service every summer to the Parish of St. Clare in Braintree, Massachusetts, Father Sommer said farewell to the parishioners to return to Guatemala. He was quoted as saying, "Because salvation is earned, not given, and since the prize, the reward, is so great, we need the help of Jesus to obtain our salvation, but we have to do our part." Father Sommer did his part very well for the parishioners of St. Clare's and the people of Central America. In 1993, he resigned his position as Pastor of Santa Ana Parish, but continued to reside in the parish and perform pastoral ministry of service to the sick and those confined to their homes. In November 1994, Father Sommer took up residence at St. Teresa's Residence.
Wake Services were held at 7:00 p.m. on June 15, 1997, at St. Teresa's Residence Chapel and at 7:30 p.m. at Our Lady Queen of Apostles Chapel at Maryknoll Center where Fr. William Price officiated. Mass of Christian Burial was concelebrated at Queen of Apostles Chapel on June 16, 1997 at 11:00 a.m. Fr. Leo Sommer was Principal Celebrant and Fr. John Halbert was homilist. Burial followed at Maryknoll Center Cemetery with Fr. Raymond Finch conducting the graveside service.