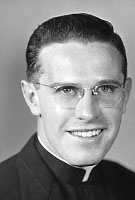 Father Paul W. Touchette, MM
Born: July 1, 1923
Ordained: June 10, 1950
Died: September 21, 1986
On Sunday, September 21, 1986 Fr. Paul Touchette died at St. Teresa's. He was sixty-three years old. The entrance hymn for that Sunday was: "I am the Savior of all people, says the Lord. Whatever their troubles, I will answer their cry, and I will always be their Lord." The Lord heard Paul's cry and called him to the Kingdom of Heaven.
Father Paul was born on July 1, 1923 in Sommerville, Massachusetts. He entered Maryknoll on June 8, 1941. Reflecting on his vocation to Maryknoll, he wrote: "The earliest beginnings of my vocation were in grammar school. The chief influence was my aunt, Sr. Esther Marie, who is a Maryknoller. I was always very proud of my aunt and looked forward to her letters and occasional mission booklets. She had the Field Afar sent to our home and this helped to keep Maryknoll in the foreground. Undoubtedly, Sister Esther Marie was the primary reason why I chose Maryknoll, and its publications secondary."
If any phrase could sum up the life of this missioner, it was given by one of his first superiors:"Paul is an active joy-cloud in a dreary world."
He was ordained on June 10, 1950 and assigned to the Japan Region where he spent most of his missionary career. He worked in the Development Department from 1957 to 1960. After thirty-three years of his mission life, he was able to take a trip to the Holy Land with ninety-two Japanese Catholics and managed to shake the hand of Pope John Paul II. He wrote: "It was a time for great joy and many graces for me."
Fr. Paul served the Society in many different ways over the years. He was appointed second Consultor for the Japan Region in 1961; Vicar General in Hokkaido in 1962; and in 1972 he again served on the Regional Council. He worked in various parishes throughout the missions in Japan, built day-care nursery schools, convents and churches with untiring zeal and enthusiasm.
From his beginnings Paul showed promise of being a good missioner. His first superior wrote: "He is outstanding in mastering the language. He is zealous, prudent, a first-class missioner, a fine priest, good parish organizer, methodical in everything he does – studies, prayers, his parish, his books and his habits… While still a student novice he was known to be a person who enjoyed life, making the most of his novitiate, enjoying himself, and making life pleasant for others. His superior at that time said that Paul "Had the unhappy faculty of defending himself or speaking his mind quite openly on occasion, and the trouble is, he's usually right."
Many people will remember Paul for his musical talents, his piano playing and entertaining abilities. While a patient at St. Teresa's he was seen many times at the piano, leading a songfest with other members of the community and guests.
In 1984 Fr. Paul had to come back to the States because of ill health. At that time no one thought that he would return to Japan. However, in May of 1985 he recovered sufficiently to return. When word was received in Japan that he was returning, a missioner wrote: "Needless to say, this is great news. I am sure a great deal of credit for Paul's recovery is his up-beat attitude…not to play down the place of the prayers of many people on both sides of the International Dateline…" During his last year he maintained his positive attitude toward his health. He did not let this hinder his work as he continued the process of remodeling his church and serving some 300 Catholics in his parish which also had a large kindergarten.
In October, 1985, when Paul found out he was to leave Japan for good, he wrote to Father General: "I should quit now while I still have the strength to get home. I am very grateful that I was allowed to return to Japan even though I lasted only six months. Wish it could have been longer, but the Lord's will be done."
The Wake Service was held on Tuesday evening, September 23; the Funeral Mass was concelebrated the following day.
May he rest in peace: "I am the Savior of all people, says the Lord. Whatever their troubles, I will answer their cry, and I will always be their Lord."