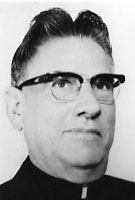 Father Peter A. Reilly, MM
Born: July 15, 1912
Ordained: June 16, 1940
Died: June 20, 1994
Father Peter A. Reilly died in St. Teresa's Hospital, Hong Kong, on Sunday evening, June 20, 1994. He was 82 years of age and a Maryknoll priest for 54 years.
Peter Alphonsus was born in Boston, Massachusetts, on July 15, 1912, son of Peter A. and Mary Cox Reilly. He had three brothers, two of whom became priests – one in the Covington Diocese, Kentucky, and one in the Boston Archdiocese. He had two sisters, one of whom was Sister Anne Eucharia of the Sisters of Charity. Peter attended St. John's Parochial School and graduated from Boston College High School. He attended Boston College for two years and entered Maryknoll Major Seminary, Ossining, New York, on September 11, 1933. He was ordained a Maryknoll priest on June 16, 1940 at Maryknoll Seminary.
As a seminarian and all through his very productive priesthood, he was exemplary in every department. He was an excellent student, a physical giant, undaunted in moral courage, meek, pious, an efficient and reliable worker, generous and unselfish with his time, self-sacrificing in conceiving ways of helping others and effective in doing things to please them. He was a great organizer of games and a fine athlete, popular, good natured, well liked and at the same time a private person.
Following ordination, Father Reilly was assigned to the Maryknoll Vicariate Apostolic of Wuchow in Kwangsi Province, South China. After a year of Cantonese language and cultural studies in Hong Kong he moved to Wuchow in September 1941 and served there behind the Japanese occupation lines throughout World War II. As the Japanese army retreated, Father Reilly reentered Wuchow on a river boat with three American Special Forces men and a Chinese Army group. As the Vicar General of the Wuchow Vicariate he assisted his close friend Bishop Frederick A. Donaghy in establishing Maryknoll's first Kwangsi Catholic mission school, called Sacred Heart Primary School. In 1949, after a home leave, he returned to Wuchow which by then had fallen to the Chinese Communists. On December 19, 1950 Father Reilly narrowly escaped imprisonment. During his two years under the Communists he was often interrogated at the police station. He entered Hong Kong in December 1952.
In Hong Kong, Father Reilly engaged in a very fruitful mission career for the next 41 years. To begin with he established a tiny mission in a wooden hut surrounded by thousands of refugees in a place called Kowloontsai. Like other Maryknollers expelled from China, Father Reilly set up clinics, domestic industries, welfare projects and food distribution among the bewildered and destitute thousands of refugees. He built a primary and secondary school for 2000 young people in the area which developed into a renowned and highly successful academic institution. He remained as Supervisor and Director of this school through the years until 1994. He also built a large chapel and became the pastor of the area wherein thousands were instructed and baptized. He also established St. John's Parish in the industrial area of Kwun Tong and worked in the outskirts of the area of Sau Mau Wing and Kai Liu, where clinics, domestic industries, etc., were initiated. He secured land from the Government for many Maryknoll schools.
Throughout his missionary life and in spite of the time and energy expended on the establishment and construction of many educational buildings, Father Reilly remained in pastoral work as a dedicated pastor. He lightly claimed two distinctions in his work in Hong Kong: 1) he was the only foreigner to be chosen by the Government to join the Colony's Language Board of Examiners, which examines British expatriates prior to Government appointed positions; and 2) he was the first priest to build and open a Co-ed Catholic School in Hong Kong. Father Reilly said of himself: "I have always been happy and peaceful in my vocation and deeply loyal to Maryknoll." One Supenor wrote: "He is normally relaxed and optimistic and has a real and deep prayer life…personally secure in the priesthood but sometimes distressed about the present confusion." Another Superior wrote: "Doubtlessly one of, if not the, outstanding Maryknoller in Hong Kong." He was the 1972 Chapter Delegate for the Hong Kong Region.
Concelebrated Mass of Christian Burial offered in St. Francis of Assisi Church, Kowloon on Wednesday, June 22, 1994 at 2:30 p.m. Principal celebrant Cardinal John Baptist Wu; homilist, Rev. John F. Ahearn, M.M. Memorial Mass in Queen of Apostles Chapel, Maryknoll, New York, Thursday, June 23, at 11:30 a.m. Principal celebrant Rev. James E. McLaughlin; homlist Rev. John A. Cioppa.