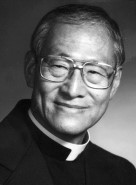 Father Peter A. Wu, MM
Born: July 6, 1932
Ordained: June 10, 1961
Died: May 3, 2020
Father Peter A. Wu died on May 3, 2020 at the Assisted Living Unit, Maryknoll, New York.  He was 87 years old and a Maryknoll priest for 58 years.
Peter Wu was born in Shanghai, China on July 6, 1932, son of Dr. John Ching-Hsiung Wu and Teresa Li.  He was the eighth child among ten boys and four girls.  Peter attended Yang-ming Elementary School in Kweilin, China, where he first met the Maryknoll missioners who taught him catechism and how to serve Mass.  When the Japanese invaded Kweilin during World War II, the family moved to Kweiyang where Peter, then twelve years old, entered the minor seminary.  After three months he rejoined his family to take refuge in Chungking until the end of the war.  In the winter of 1946, Dr. Wu was appointed Minister to the Holy See, and the whole family moved to Rome.
In 1948, Peter came to the USA and studied at the Canterbury High School in New Milford, Connecticut for two years.  In 1951 he graduated from the Christian Brothers High School in Sacramento, California.  In June 1955, he graduated from Seton Hall University with a Bachelor of Arts degree in Chemistry.  He entered the Maryknoll Junior Seminary (the Venard) in Clark's Summit, Pennsylvania in September 1955 and was ordained a priest at Maryknoll Seminary in New York on June 10, 1961.
After ordination, while formally assigned to the Maryknoll Mission Region of Formosa (now Taiwan), Father Wu studied at the Georgetown University School of Languages and Linguistics in Washington DC.  Upon completion of his studies, he left for Taiwan in August 1962.  After a year of Taiwanese language studies, Father Wu was assigned to work in several Taiwanese-speaking rural parishes.  In 1968, while home on furlough, he completed his thesis and earned his Master's Degree in Linguistics.
Father Wu returned to Taiwan in April 1969, where he worked in the mountains for many years as a teacher and pastor of Kuo Kheng Catholic Mission, an Aboriginal parish.  He also served as director of the diocesan Commission for Youth Apostolate for over two decades.  On October 1, 1985 Father Wu was appointed Third Assistant Regional Superior for the Taiwan Region.  Shortly thereafter he accepted an assignment to Holy Family Parish of Tungshih, a parish consisting mostly of Hakka people.
Father Wu was appointed Second Regional Assistant for the Taiwan Region effective October 1, 2000, and he was re-assigned to serve as pastor of Kuo Kheng Catholic Church.  After fifteen very wonderful years at Holy Family Parish, where he learned how to work with the lay leaders and a wonderfully zealous Sister Paulita Hoffman MM, Father Wu was back where he started almost 40 years before.
At the time of his 50th Jubilee, Father Wu said that God had been so merciful and kind to him for allowing him to enter into the fabulous Mystery which is Maryknoll.  He said, "With eternal gratitude to all our wonderful relatives, friends, fellow missioners and benefactors who have shown me the merciful face of the loving God, I am proud to be a Maryknoll Missioner."  In 2012, Father Wu entered the Retirement Community, now known as the Senior Missioner Community.
A Mass of Christian Burial was celebrated in Queen of Apostles Chapel on May 5, 2020.  Father Alfonso Kim was Principal Celebrant and homilist, and Father Peter Le Jacq read the Scripture, Oath and biography.  Burial followed in the Maryknoll Society Cemetery.