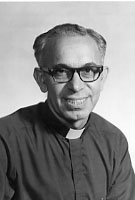 Father Peter J. Petrucci, MM
Born: July 22, 1922
Ordained: June 11, 1949
Died: February 1, 2012
Father Peter J. Petrucci, M.M. died on February 1, 2012 at St. Teresa's Residence. He was 89 years old and a Maryknoll priest for 62 years.
Peter Joseph Petrucci, one of five children, was born in Idamay, West Virginia, on July 22, 1922, son of Remigio and Antonette Petrucci. His early schooling took place at St. Vincent's Grammar School and Farmington High School in 1940. He credits his vocation, in part to the Sisters of St. Joseph in Wheeling, Virginia who ran St. John's Orphan Home, where Peter and his sisters and brothers were sent for a time. Peter entered Maryknoll Apostolic College (Venard), Clarks Summit, Pennsylvania, in September 1940 and was ordained at Maryknoll, New York, on June 11, 1949.
On July 24, 1949 Father Petrucci was assigned to the Maryknoll Mission in Mexico, where he served for 58 years. At various times during his priesthood he took specialized courses in C.C.D. training at Catholic University of America, Washington, D.C. and courses in Cuernavaca, Mexico, and Fordham University, New York. In 1979 he took the Theological Renewal Course at the Society of the Divine Work Collegio in Nemi, Italy. Besides being an active, excellent missioner, Father Petrucci has served as First and Second Assistant on the Mexico Region's Council.
Father Petrucci served as pastor of Carrillo Puerto Parish, an isolated area of the Yucatan and in 1950 was transferred to a parish in Peto. Besides Spanish he studied the Maya Indian language and translated dialogue mass prayers in that language for the use of the Indian parishioners. In 1956 he was appointed pastor of the Maryknoll Parish in Cozumel, then in Bacaiar, and later moved to Tzucacab Parish and served there for four years. He also served for many years as Pastor of Nuestra Senora del Carmen Parish, Colonia Yucatan. In 1969, Father Petrucci moved to Sotuta, where he helped the teachers and parents in town to start a Secondary School and also helped to start the Family Catechist movement. In 1980 he was appointed Assistant Pastor of San Sebastian Parish in Merida, Mexico, where, with the Pastor, they started the Family Catechist movement which has become widespread. In 1996 he was appointed Pastor of San Sebastian, a very large parish consisting of 7 chapels in the city and a sub-parish with four churches. One of the major accomplishments of Father Petrucci's work in San Sebastian was that, within his time there, there were 5 priests ordained; one was a Guadalupan Missioner in Kenya. In 2004 he oversaw the transference of this parish to the diocese. Father Petrucci retired in May, 2007 with residence in Mexico, continuing to help out in San Sebastián and some of the villages nearby. In August 2007 Father Petrucci moved to St. Teresa's Residence at Maryknoll, New York.
Wake services were held at 4:30 p.m. on Monday, February 6, 2012 at St. Teresa's, and at 7:30 p.m. in Queen of Apostles Chapel at Maryknoll Center where Father Robert Lloyd officiated and Father Martin Keegan read the biography. Mass of Christian Burial was concelebrated in Queen of Apostles Chapel on Tuesday, February 7, 2012 at 11:00 a.m. Father John Martin was Principal Celebrant and homilist. Burial followed in Maryknoll Society Cemetery with Father Paul Masson conducting the graveside service.