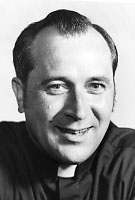 Father Peter P. Mullen, MM
Born: October 20, 1932
Ordained: June 9, 1962
Died: April 29, 1999
Father Peter Mullen died at St. Teresa's Residence in the evening of April 29, 1999. He died very peacefully. Father Mullen was 66 years old and a Maryknoller for 36 years.
Peter, born on October 20, 1932 in Dedham, Massachusetts, was one of seven children born to Peter and Mary Kiely Mullen. His early schooling was at St. Mary's grammar school and North Attleboro High School in North Attleboro, Massachusetts. He entered Maryknoll at the Venard, Clarks Summit, Pennsylvania in February 1952 and was ordained on June 9, 1962.
After ordination Father Mullen was assigned to Hawaii and worked as Curate in St. Joseph's parish in Hilo. A year later in April 1963, he was assigned to the Philippines and while learning the language worked in Baganga parish. Later he became acting pastor in Lupon, Monkayo, and Christ the King Cathedral in Tagum.
In July 1972, Father Mullen was assigned to the Development Department and to the Buffalo area. Over the next several years, he served the Department in various capacities: as Director of the Buffalo House (1973); as Director of the New Jersey House (1975); and as Director of the Cleveland House, a position he held for many years 1978-1989. Father Mullen completed his long-term service in the Development Department as of December 1989. In August 1990, he was appointed Diocesan Director of the Society for the Propagation of the Faith by Bishop Anthony Pilla, a post he held until January 1991.
In June 1992, Father Mullen began work with the Ogdensburg Diocese in upstate New York as Catholic Chaplain at the Adirondack Correctional Facility in Ray Brook, New York. He held this position until his illness forced his retirement. Father Mullen moved to St. Teresa's Residence in November 1998.
Wake services were held on May 2, 1999 at 7:00 p.m. at St. Teresa's Residence Chapel, and at 7:30 p.m. at Queen of Apostles Chapel at Maryknoll Center where Father Thomas Keefe officiated. Mass of Christian Burial was concelebrated at Queen of Apostles Chapel on May 3, 1999 at 11:00 a.m. Father John Hudert was Principal Celebrant and Father Jeremiah Burr homilist. Burial followed at Maryknoll Center Cemetery with Father Raymond Finch conducting the graveside service.