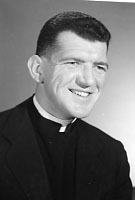 Father Philip F. McCue, MM
Born: December 29, 1927
Ordained: June 14, 1958
Died: October 20, 1998
Father Philip McCue died on October 20, 1998 at Boston Medical Center. He was 70 years old and a Maryknoll priest for 40 years.
Philip was born on December 29, 1927 in Dorchester, Massachusetts, second son of John and Isabel Kearney McCue, with three brothers and one sister. He attended St. Margaret's Elementary School in Dorchester and Boston College High in Boston, Massachusetts. After graduation, he served in the United States Marine Corps for three years. Upon his discharge, Father McCue entered Maryknoll on January 29, 1949 in the Junior Seminary Venard at Clarks Summit, Pennsylvania and was ordained on June 14, 1958.
After ordination, Father McCue was assigned to the diocese of Shinyanga, in then Tanganiyka, East Africa. After a sketchy language course in the Kisukuma language (there was no language school), he began working with the Basukuma people in January 1959. He subsequently worked in four parishes, Wira, Malili, Kilulu and Sayusayu for 15 years.
In 1973 Father McCue attended a renewal course at Maryknoll, New York and then returned to East Africa, this time assigned to the Maryknoll Mission Region of Kenya which necessitated a course in Kiswahili. Father McCue worked in the highlands Diocese of Eldoret in Burnt Forest Parish and then was assigned to the coastal parish of Kilifi on the Indian Ocean, where he worked for almost nine years. All of these parishes both in Tanzania and Kenya involved a rural ministry.
In 1990, Father McCue was assigned to Umoja Parish, an urban parish in Nairobi, Kenya. This work was quite different from earlier assignments. After seven years in Umoja Parish, it was turned over to the diocese. Helping to set up the local Church is Maryknoll's Mission. This done, Father McCue, after 39 years in East Africa, was assigned to the Retirement Community in July 1997, and took up residence with his sister, Kathleen, in Dorchester, Massachusetts.
Wake services were held at 7:30 p.m. on October 23, 1998 at Queen of Apostles Chapel at Maryknoll Center where Father George Egan officiated and Father Stephen Schroeppel read the biography. Mass of Christian Burial was concelebrated at Queen of Apostles Chapel on October 24, 1998 at 11:00 a.m. Father William Madden was Principal Celebrant and Father Thomas Keefe, homilist. Burial followed at Maryknoll Center Cemetery with Brother Wayne Fitzpatrick conducting the graveside service.