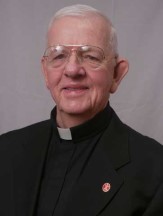 Father Philip N. Erbland, MM
Born: July 12, 1933
Ordained: June 11, 1966
Died: January 22, 2023
Father Philip N. Erbland died on January 22, 2023 in the Assisted Living Unit at Maryknoll, New York. He was 89 years old and a Maryknoll priest for 56 years.
Philip Norbert Erbland was born on July 12, 1933 in Fairport, New York, son of Walter Joseph and Ada Mary Hendricks Erbland. He was the sixth of nine children, one of whom is Sister Elizabeth Erbland, M. M., a Maryknoll Sister. Philip attended Fairport public schools after which he earned a degree in Mechanical Engineering from the Rochester Institute of Technology. Upon graduation, he worked as an engineer for Taylor Instrument Company until he entered St. Bernard's Seminary in Rochester where he received a Bachelor of Arts degree in Philosophy.
Family life provided the seeds for his vocation. As an altar boy, he came to admire parish priests and the values they promoted. Visits by foreign missioners to the annual parish missions and their work among the poor created an enthusiasm that eventually inspired him to join their ranks. It was a talk by a Maryknoller at the Rochester Seminary that convinced him to accept the challenge of a life of service to the poor in a foreign culture.
He entered Maryknoll Seminary in Ossining on September 1, 1961 receiving a Bachelor of Divinity degree in 1965 and a Master of Religious Education in 1966. Upon ordination at Maryknoll on June 11, 1966, Father Erbland received an assignment to Maryknoll's Mission Region in Peru, South America. After language studies in Cochabamba, Bolivia, he received an assignment to the Altiplano Parish of San Pedro in the Prelature of Juli.
In Juli, he soon became known as "Padre Película" (Father Movies) because of the countless educational films he showed in the town and in surrounding rural communities. In some villages people built roads and constructed small, one-room buildings just to see some of the films and subsequently participate in more intensive evangelization programs. Some of these buildings later became schools. For most people, the movie program was a new and welcomed experience. Rural folks would trudge with small children for great distances through the dark and in rain and snow to view films and share in discussion.
With the closing of radio schools, rural farmers who had learned to read and write had little chance to improve their skills for lack of books, etc. Seeing this need, Father Erbland began to publish a weekly two-page newspaper containing both educational themes and inter-community news that the local catechists distributed among their people. The newspaper also served the needs of other parishes. It served especially well as a reflection guide for small group discussion.
Possibly as a result of the evangelization programs, rural people became more aware of the need for some form of health service that at the time was nonexistent in their communities. This provided Father Erbland the opportunity to train rural health promoters who taught preventive medicine, administered doctors' prescriptions and offered first aid.
In 1976 Father Erbland was assigned to the Huancané Parish and in 1979, to Our Lady of Sorrows Parish in Arequipa. He served four years in the Maryknoll Development Department, working in Texas from 1982 to 1986, and returned to the Altiplano Parish of Taraco in January 1987 supervising the newly installed lay pastoral agents. After one year there, he was assigned to Arequipa where he developed a formation team made up of Maryknollers and a Peruvian lay couple. The team provided a program of integral formation consisting of personal and faith development along with the social teachings of the Church to pastoral workers in various parishes. The aim of the program was to stimulate and capacitate lay leaders to become missioners within their own parishes. The program was well received by the professional association of social workers as well as the personnel in charge of the Arequipa penal system.
On hearing of Father Erbland's death, Maryknoll Affiliate Fátima Carrera in Arequipa, Peru wrote this "Letter of Appreciation and Gratitude to Father Philip Erbland, MM in His Departure to Our Father's Home."
"Thank you, Philip for being a wonderful visionary, so challenging, a true friend and specially to discover in each one of us our talents and strengths. We are grateful for you promoting the laity and promoting continuous formation. Thank you, Philip, for helping us so much in all the projects we would undertake.
Philip you precede us in our encounter with God our Father. At the same time we too are on the way of encounter. But we know what we learned from you with love we have to return that message to our most forgotten brothers and sisters. Thank you, Maryknoll, for being our family with deep roots that touch the heart of our dear Pachamama.  Good bye, Phil, rest in peace; our love will always be with you".
Although retired in September 2000, Father Erbland continued to work in the Tacna region doing pastoral work and lay leadership training. In 2010 he returned to live at Maryknoll, New York and was assigned to the Senior Missioner Community (formerly Retirement Community) in November 2010. He remained close to his Class of 1966 classmates to celebrate the anniversary of their ordination, June 1, 1966 with a Mass, have a meal together, visiting their classmates' graves in the Maryknoll cemetery and having a photo taken at the Memorial Tree in front of the main building.
In July 2015 Father Erbland was appointed to the Pastoral Visitors Team and continued to reside at the Society Center at Maryknoll, New York.
Father Erbland is survived by his sister Sr. Elizabeth Erbland, MM, and his two sisters-in-law, Marsha Erbland and Nancy Erbland.
Wake services were held on January 27, 2023 in the Holy Spirit Chapel and the Queen of Apostles Chapel at the Maryknoll Society Center. Mass of Christian Burial followed at 11:00 a.m. and was concelebrated in the Queen of Apostles Chapel. Father Leo Shea was the Celebrant and Father Joseph Healey was the homilist. Father John Moran read the biography and Sister Elizabeth Erbland, M.M. read the Oath. Per Father Erbland's wishes, he was cremated following the funeral Mass and his cremains were placed in the Maryknoll Columbarium.