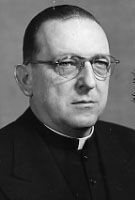 Father R. Felix White, MM
Born: November 30, 1909
Ordained: June 16, 1937
Died: April 22, 1966
Father White was born in Geneva, New York on November 30, 1909, the son of Joseph and Sarah White. After graduation from St. Stephens Grammar School and St. Francis de Sales High School, he entered Georgetown University in 1927. While making a retreat at the latter place, Father decided to join Maryknoll. He arrived at the Venard in November of 1928. He was a member of the first novitiate class in 1930. Ordained on June 16, 1937 by Bishop James E. Walsh, he was assigned to Pyeng-Yang, Korea.
While in Korea Father was pastor of two parishes, Masan and Chuwa. When war broke out in 1941 he was interned by the Japanese and in August of 1942 was repatriated. He was then assigned to Yucatan but an automobile accident prevented him from going there and instead he was appointed Rector and Local Superior of the Maryknoll house in Buffalo. While in Buffalo he attended Canisius College and obtained a Masters degree in History.
After five years Father went to Lakewood, N.J. as assistant Spiritual Director and to teach History. The following year he was named Rector of Maryknoll Junior Seminary in Mountain View, California. After his term of office he taught History at Maryknoll for three years and at Glen Ellyn for a short time. He then went to the Venard to teach History and act as Librarian. In September of 1963 Father White was again transferred to Glen Ellyn where he was assistant Librarian. During the summers he attended Villanova University where he obtained a degree in Library Science.
His health was not good and had begun to deteriorate. On April 14, 1966 he went to DuPage Hospital suffering from pneumonia. He was anointed on the evening of April 22 and died shortly after. His death was very unexpected.
A Requiem Mass was concelebrated by Fr. Robert Greene and members of the faculty. Burial was in the cemetery at Glen Ellyn on April 26th.