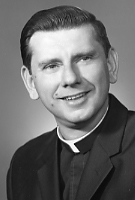 Father Ralph F. Christman, MM
Born: November 25, 1928
Ordained: June 9, 1956
Died: March 21, 2011
Father Ralph Christman died at St. Teresa's Residence, Maryknoll, New York on March 21, 2011. He was 82 years old and a Maryknoll priest for 54 years.
Ralph Frederick Christman was born on November 25, 1928 in New York City, New York, son of Ralph and Helen Grogan Christman. He was the eldest of eight children, with two sisters and five brothers. Ralph attended P.S. 72 and Fordham Preparatory High School in New York City and entered Maryknoll in June 1946. He received a B.A. in Philosophy in 1951; an S.T.B. in Theology in 1955; and an M.R.E. in Religious Education in 1956. He was ordained a priest on June 9, 1956 at Maryknoll, New York.
After ordination, Father Christman was assigned to the Education Department. His first assignment was to the Venard and then, in 1961, he was assigned to the new Maryknoll Junior Seminary at Chesterfield, Missouri. Father Christman was named Rector of the Junior Seminary, serving in that capacity until its closing in 1969. He continued his own education throughout this period, earning an M.S. in Library Science from the Catholic University of America in 1958, and a Master of Education degree from St. Louis University in 1966.
In July 1969 Father Christman was assigned to the Philippines, where he did pastoral work in Sigaboy before being assigned to work with the Filipino seminarians in Tagum and with college students in Davao City. He was later named Rector of the seminary and principal of St. Mary's High School in Tagum. When martial law was declared, Father Christman was assigned to teach at the Ateneo University in Davao City and to run the Seminary House for the college students in Davao. He served as Assistant Regional Superior of the Philippines from October 1980 until September 1983.
In 1986 when martial law in the Philippines came to an end, Father Christman was assigned to Honaunau, Hawaii, where he served for 11 years. He was Assistant Regional Superior in Hawaii from October 1989 to September 1992, and in 1992 when the Hawaii Region became a Mission Unit, he was appointed Hawaii Unit Coordinator, a position he held from October 1992 to September 1995. He joined the Retirement Community on July 1, 1999 with continued residence in Hawaii until early 2007, when he retired to the Maryknoll Residence in Los Altos, California. At the end of 2007 Father Christman moved to Mission St. Teresa's, Maryknoll, New York.
Wake services were held at 4:30 p.m. on Monday, March 28, 2011 at St. Teresa's, and at 7:30 p.m. in Queen of Apostles Chapel at Maryknoll Center where Father Robert Depinet, M.M. officiated. Mass of Christian Burial was concelebrated in Queen of Apostles Chapel on Tuesday, March 29, 2011 at 11:00 a.m. Father John Casey, M.M. was Principal Celebrant and homilist. Burial followed in Maryknoll Society Cemetery with Father Paul Masson, M.M. conducting the graveside service.