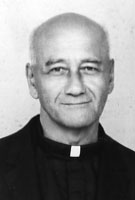 Father Ralph W. Sylva, MM
Born: September 12, 1917
Ordained: June 10, 1945
Died: July 3, 1991
Father Ralph William Sylva died peacefully at Los Altos, California on July 3, 1991. He was 73 years of age and a Maryknoll priest for 46 years.
Ralph was born in Honolulu, Hawaii on September 12, 1917, son of Joseph E. and Mary Haake Sylva. He had 4 brothers and 1 sister. With his identical twin brother, Rudolph, he attended public school in Honolulu and both became the first students to enroll in the newly opened Maryknoll School in Sacred Heart Parish, Honolulu. Ralph was valedictorian of the first graduation class in 1934. In 1936 he entered Mountain View. Ralph had a beautiful voice and enjoyed entertaining family and friends with Hawaiian, English, Irish and Spanish songs. After Theology he was ordained at the Center on June 10, 1945.
After Ordination Fr. Sylva was assigned to the newmission in Tepic, Mexico and served under very difficult conditions. After vacation at home and fill-in work in Honolulu, Ralph was transferred to the Pando Vicariate in Bolivia. There he served for 22 years and proved to be very practical, adaptable and capable missioner. He worked well with the local people and well liked.
After the Pando he was moved as pastor to the remote Cavinas mission and served for 12 years among the Indians. He was appointed to supervise the construction of a small government airfield to connect Cavinas at the end of the line on the Beni River with the outside world. The airfield opened the area up to productive agriculture and Fr. Sylva worked closely with the people in improving ways of raising corn, rice and farm animals. His superiors and fellow missioners admit that he was an excellent manager among the people.
In 1956 he became Pastor of the Guayaramarin Mission where he continued his pastoral ministry in the villages along the Abuna River. In 1959 he served as Assistant Pastor in the King Villa Galindo Mission in Cochabamba, Superior of the Society House and Director of the Language School in Cochabamba. He was also Econome for the Bolivian Mission.
After furlough in 1963 Ralph was assigned to Hawaii and served inthe Big Island of Hawaii. In 1972 he was made Pastor at Kamuela for a year and a half. From 1973 to 1985 he was Pastor of St. Benedict Parish (the Painted Church) in Honaunau, with two mission stations. All in all, Father Sylva was a dedicated missioner among the people and manager of church property. On the occasion of his 40th anniversary of priesthood in 1985, Fr. Sylva formally resigned as Pastor of St. Benedict Parish and began a sabbqtical leave for spiritual updating and renewal. Then he was enrolled in the Special Society Unit with residence at Los Altos.
Wake Services took place at Los Altos, conducted by Fr. Thomas Foley, Mass of Christian Burial was offered on July 8, with Fr.Arthur Dwyer as principal celebrant and Fr. John McCabe as Homilist, Burial was in the Los Altos cemetery. At the Center a memorial Mass was offered.