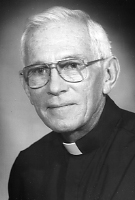 Father Ramon J. McCabe, MM
Born: September 15, 1928
Ordained: June 6, 1956
Died: May 10, 2014
Father Ramon J. McCabe died on Saturday, May 10, 2014.  He was 85 years old and a Maryknoll priest for 57 years.
Ramon "Ray" Joseph McCabe, the sixth child in a large family, was born in Madelia, Minnesota on September 15, 1928, son of Osmund and Mary Kreutzer McCabe.  He attended Mater Dolorosa grade school and MadeliaHigh School, and upon graduation he entered Maryknoll in September 1947.
Because of the post-war vocation boom, he was one of nine Maryknoll Seminarians who was sent to Crosier Seminary in Onamia, Minnesota.  The next nine years were spent in various Maryknoll locations including Lakewood, New Jersey; Glen Ellyn, Illinois; Bedford, Massachusetts and Maryknoll, New York. He received a B.A. in Philosophy from Maryknoll College, Glen Ellyn, Illinois, and a Master of Religious Education from Maryknoll School  of Theology, Maryknoll, New York.
Father McCabe was ordained on June 9, 1956 at Maryknoll, New York.  In those days one was not given a choice of where to go, but Father McCabe was fortunate to be assigned to the country he most wanted to go to, Tanzania.
During his fifty six years in Tanzania, Father McCabe was principally involved in pastoral ministry and evangelizing among the rural poor.  During two periods he had the additional work of food relief distribution.  He worked among the people of three different ethnic groups: the Basimbete, the Bakuria, and the Bajita.  He used the Kisimbiti language for the first six years, and then Kiswahili.
Father McCabe retired in 1998, and lived at the Society House in Musoma, Tanzania, giving assistance to local pastors and Sisters' groups when requested, and offering Mass each Sunday in one of the five Churches in his former parish, Kiagata Catholic Mission.  Since 2001 he was Superior of the Musoma Society House, known to all African Maryknollers as "The Brown House." His kind and welcoming spirit made the House a place of warmth and rest for all the Maryknollers and other visitors who came there.
Father McCabe continued his pastoral ministry in Musoma until July 2012 when he returned to Maryknoll, N.Y.  In October 2012, he was assigned to the Retirement Community and took up residence in the Maryknoll house in Los Altos, CA.
Wake services were held on Friday, May 16, 2014 at 7:30 p.m. at Queen of Apostles Chapel at Maryknoll Center where Father Leslie Blowers officiated and Father Emile Dumas read the biography.  Mass of Christian Burial was concelebrated in Queen of Apostles Chapel on Saturday, May 17, 2014 at 10:00 a.m.   Father Maurice Zerr was Principal Celebrant and Father J. Ernest Brunelle was homilist.  Burial followed in Maryknoll Society Cemetery.