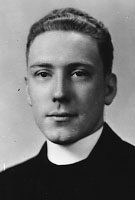 Father Raymond A. Gaspard, MM
Born: May 11, 1912
Ordained: June 11, 1939
Died: September 8, 1988
Raymond Arthur Gaspard died at St. Teresa's Residence on September 8, 1988. He was 76 years old.
Raymond was born on May 11, 1912 in Minneapolis, MN, son of Joseph T. and Jewell P. Johnson Gaspard. He had two brothers and two sisters, one of whom was a Maryknoll Sister, Sister Mary Joan. He attended grade school in Minneapolis, Nazareth Hall, Lake Johana and St. Paul Preparatory Seminary. He was attracted to the foreign missions and entered Maryknoll in 1932. He was a steady, regular student and was ordained by Bishop James E. Walsh on June 11, 1939.
After ordination, Father Gaspard was assigned to the Vicariate Apostolic of Kongmoon and there he became assistant pastor and then pastor of Loting Mission. He was a soft-spoken, thoughtful speaker, gained a fair fluency in Cantonese and became well known for his medical dispensary work. He remained in Loting throughout the disruptive years of World War II and, even though the mission was bombed by Japanese planes and strafed several times with machine gun fire, he was not wounded. The communist troops gained control of Kongmoon in 1950.
Father Gaspard was called to Shiuhing for registration in December, 1950. He was questioned at the Loting Mission and forced to stand all night because he could not answer questions fast enough. On March 23, 1951 he was arrested and held in jail on four charges. As far as he could make out he was charged with possessing six pamphlets received from the Catholic Central Bureau in Shanghai which were considered reactionary. The second charge was employing a catechist said to be a former Kuomintang man (actually he was a former Kongmoon seminarian); the third charge was withholding information about personal and mission property; and the fourth charge was failing to observe government teaching regulations (teaching religion was forbidden). The questioning took place seven or eight times. For the next nine months he was imprisoned in Loting, where he became ill. He baptized two fellow prisoners and probably could have baptized others but he could not get near enough to talk to them. He said no one did him violence physically but the food was poor and the inactivity was a nerve-wracking experience. Finally, on December 20, 1951, he was banished from China forever as an undesirable alien. He entered free Hong Kong on the 30th and returned to the States.
After a year on Promotion in Minneapolis in 1952 he was assigned to Hawaii in March, 1953. For the next 21 years he served as assistant pastor and pastor in various parishes on Oahu and Hawaii Islands. He found contentment in his ministry. He liked the people and he kept the churches in his care clean and in good repair. He did good pastoral work in all his assignments and was known as being kind and generous with his people.
In January, 1974 Father Gaspard was assigned to the U.S. Region and enrolled in the Special Society Unit. He preferred to live and do limited work in the Minneapolis Development House until July, 1987 when he came to St. Teresa's for needed medical treatment. During his time there he was a model of patience in suffering and, said the Director, a delight as a member of the community.
Wake services were held at St. Teresa's and the Center Chapel on the 11th of September. Fr. Richard Callahan read the biography letter. Concelebrated Mass was offered on the 12th with Fr. Robert Wynne as principal celebrant. Fr. Fidelis Goodman was Homilist and Fr. Joseph Veneroso conducted service at the grave.