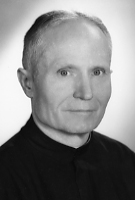 Father Raymond C. Hohlfeld, MM
Born: January 29, 1908
Ordained: June 17, 1934
Died: May 18, 1998
Father Raymond C. Hohlfeld died in the morning of Monday, May 18, 1998 at St. Teresa's Residence, Maryknoll, New York. He was 90 years old and a Maryknoll priest for almost 64 years.
Raymond Hohlfeld was born in Hastings, Nebraska, on January 29,1908, son of Oscar and Agnes Kealy Hohlfeld. He had two brothers, Louis and Joseph; and two sisters, Gertrude and Florence. He attended St. Cecilia Parochial School and graduated from Hasting's Public High School on June 2, 1926. Father Hohlfeld entered Maryknoll Junior Seminary, Mountain View, California, on September 7,1926, and eight years later he was ordained a priest at Maryknoll Seminary in Ossining, New York, on June 17, 1934.
After ordination, Father Hohlfeld was assigned to the Maryknoll Mission in Fushun, Manchuria, on June 19, 1934. He studied the Mandarin language and made good progress especially in the written language and was then assigned to the Fushun Junior Seminary, where he remained until World War II broke out in the Pacific. In December 1941 he was interned by the Japanese in Fushun and on August 31, 1942, repatriated to the United States aboard the Swedish ship Gripsholm along with the other Fushun missioners.
After a short home visit, Father Hohlfeld was assigned to the new Maryknoll Mission in Puno, Peru, on October 26, 1942. However, the Puno assignment proved too strenuous for him and he returned to the United States in 1945. He attended Catholic University of America in Washington, D.C. and received a Bachelor of Science degree in Library Science on October 30,1947. After his studies, Father Hohlfeld was assigned as Librarian for the Maryknoll Junior Seminary in Brookline, Massachusetts. On April 15,1949 he was assigned to Maryknoll Apostolic College, Clarks Summit, Pennsylvania, and served there as Librarian until April 9,1957. He carried out his assignments and duties in his own quiet way and expressed interest in both his work and in the students.
In the summer of 1957 Father Hohlfeld secured an assignment to serve as Chaplain of St. Joseph's Guest House run by the Daughters of the Holy Spirit in New Haven, Connecticut. He remained there until the Sisters closed the Guest House in 1975. At his request he enrolled in the Special Society Unit in January 1976, and took up residence at St. Teresa's Residence, Maryknoll, New York, where he resided until his death.
Wake services were held at 7:00 p.m. on Wednesday, May 20 at St. Teresa's Residence Chapel and at 7:30 p.m. at Queen of Apostles Chapel at Maryknoll Center where Father Wayman P. Deasy officiated and Brother Kevin Dargan read the biography. Mass of Christian Burial was concelebrated at Queen of Apostles Chapel on Thursday, May 21 at 11:00 a.m. Father Charles Girnius was Principal Celebrant and Father John Hudert, homilist. Burial followed at Maryknoll Center cemetery with Father Michael Snyder conducting the graveside service.