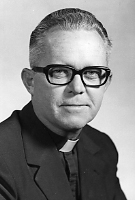 Father Raymond H. Kelley, MM
Born: June 12, 1931
Ordained: June 14, 1958
Died: December 23, 2010
Father Raymond H. Kelley died on December 23, 2010 in Taichung City Hospital, Taichung, Taiwan. He was 79 years old and a Maryknoll priest for 52 years.
Raymond Holt Kelley was born in Attleboro, Massachusetts on June 12, 1931, son of John and Ethel Holt Kelley. He had five brothers and two sisters. He attended local grammar schools, Central Junior High and Mansfield High School before entering St. Charles College Seminary in Catonsville, Maryland. After one year at St. Charles, he entered Maryknoll in September 1950.
He was ordained at Maryknoll, New York on June 14, 1958 and assigned to the Taiwan Region. After ten months of language study, Father Kelley was assigned to Shui-Li Parish for a brief time, then temporarily to Lo-Tsu and finally to the Tamaru-Luna Parish. When the parish was divided, he was named pastor of the new Luna Parish and remained there for several happy years.
In 1966 Father Kelley was assigned to Nantun district parish in Taichung City. It was there that he had his first real experience of working with the Taiwanese and Mainland people. He served six years in the Nantun district with its two outstations in Wujih and Xitun districts before being assigned to Houli. Next he was assigned to Lotsu where he remained for several years. It was not an easy assignment, as the previous pastor was expelled from Taiwan for "political reasons" and the Lotsu Church was under surveillance and scrutiny for years to come.
In 1987 Father Kelley accepted an assignment to the Nantou City Parish. In Nantou, at first there were several severe crises, but then normalcy returned. On September 21, 1999 a major earthquake rocked the parish severely. The Church was destroyed; Nantou City was one-third leveled, and the mission station Tiong-Liau was four-fifths destroyed with 278 deaths. In October 1982 Father Kelley was appointed Third Regional Assistant.
Father Kelley spent his entire mission life in Taiwan and served the people there.
Wake services and funeral services were held in Taiwan, with a Mass of Christian Burial being concelebrated in Nantou Catholic Church on December 30, 2010. Bishop Martin Su of Taichung was Principal Celebrant and many Maryknollers attended. Father Kelley was buried in East Mountain Catholic Cemetery in Yuanlin, Changhua County, Taiwan. A Memorial Mass was held at Maryknoll, New York in Queen of Apostles Chapel.