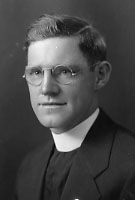 Father Reginald M. Markham, MM
Born: April 18, 1905
Ordained: June 5, 1932
Died: July 14, 1948
Reginald M. Markham was born April l8, 1905 in Seward, Illinois. He attended Columbia (now Loras) College in Dubuque, Iowa and St. Mary's Seminary in Baltimore before his entrance into Maryknoll on September 1, 1928.He attributed his vocation to the inspiration of Blessed Theophane Venard's life and to the encouragement of the priests at Columbia College and St. Mary's Seminary.
Ordained to the priesthood on June 5, 1932, Father Markham was assigned to Korea that same year. After a year at the language school in Saiho, Father was named pastor of the mission of Syoun Tchen where he labored until 1940.
In 1936 Father Markham fell ill. Periods of illness and convalescence followed throughout the succeeding years. Nevertheless, whenever his health would permit, he requested opportunities to do work for the Society in some active capacity. During these periods he served successively as Pastor of the Mexican Mission of San Juan Bautista and as Rector of the Akron house of studies.
At 12:40 a.m., July 14, l948, Father Markham peacefully expired. The body was brought to Mountain View for the Solemn Funeral Mass and burial on July 16.