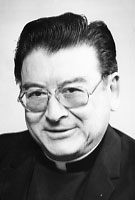 Father Richard A. Bell, MM
Born: September 9, 1927
Ordained: June 8, 1957
Died: October 26, 2013
Father Richard Bell died at Mission St. Teresa's early in the morning of October 26, 2013. He was 86 years old and a Maryknoll priest for 56 years.
Richard Aloysius Bell was born on September 9, 1927, in Shanghai, China, the 13th son of the 17 children of Joseph and Nellie Ferris Bell.  He attended a preparatory school for Cambridge University in Shanghai.  After Pearl Harbor, he was a prisoner of the Japanese, interned in a P.O.W. Camp.' In December 1943, by Red Cross arrangements, he came to America on the M.S. Gripsholm with 1,600 other P.O.Ws.'
In September 1947, Richard entered Maryknoll at Los Altos, California, after graduating from Henry Ford Trade & Engineering School in Dearborn, Michigan. He graduated from St. Joseph's Seminary in Los Altos and Maryknoll College at Glen Ellyn. Father Bell was ordained at Maryknoll, New York, on June 8, 1957, and assigned to the Maryknoll Mission Region in Taiwan, where he spent his entire missionary life.
After completing language school in Taichung, Father was assigned to the Miaoli Deanery and to Oan-li parish as curate, and after a year became pastor at Thong-siau.  When he first arrived in this parish, there were only a handful of people attending services, but after six years there, he had baptized over 1200 people. Also during this time he established a farmers' co-op, which proved to be very successful. Profits from the co-op provided construction money for homes for the poor people of the area.
After a brief return to the United States in 1967, Father Bell returned to Taiwan and to Hou-lung parish. After five years there, he was assigned to the Taichung Diocese, first to Tek-san and then to Au-li, outside of Taichung. During his ten years in Au-li, one of Father Bell's outstanding achievements was to expand the Legion of Mary into 28 members.
Father Bell returned to the United States in 1995 and took up residence in Los Altos, California. In 1996, he was assigned to the Special Society Unit and in February 2001 to the Retirement Community. In August 2004, he moved to Mission St. Teresa's where he resided at the time of his death. A fellow Maryknoller, who would visit Father Bell stated: "Any time I was in the States, and stopped by St. Theresa's, Dick would always ask me for the latest news about the Shanghai Church. This shows that Dick was a missionary to China right until the end."
Wake services were held at 4:30 p.m. on November 7, 2013 at St. Teresa's, and at 7:30 p.m. in Queen of Apostles Chapel at Maryknoll Center where Father Ernest Lukaschek officiated and Father Emile Dumas read the biography.  Mass of Christian Burial was concelebrated in Queen of Apostles Chapel on November 8, 2013 at 11:00 a.m. Father Michael Zunno was Principal Celebrant and Father Robert Crawford was homilist. A Memorial Mass was held on November 16, 2013 at the Maryknoll Residence in Los Altos, California, with many family members in attendance. Father Bell was cremated and the cremains were interred in Mission Santa Clara cemetery in Santa Clara, California.