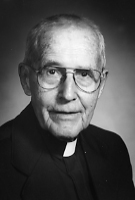 Father Richard A. Hochwalt, MM
Born: October 18, 1924
Ordained: June 9, 1951
Died: November 16, 2003
Father Richard Hochwalt died in the morning of November 16, 2003 at St. Teresa's Residence. He was 79 years old and a Maryknoll priest for 52 years.
Richard Albert Hochwalt was born October 18, 1924 in Dayton, Ohio, son of Carroll and Pauline Burkhardt Hochwalt. He was the second of four children; an older brother, Carroll Jr., a younger brother William who died in infancy, and a sister, Paula H. Morie. He attended Holy Angels Parochial School staffed by the Sisters of Notre Dame de Namur, and Oakwood High School.
He entered Maryknoll at St. Gregory's Seminary, Cincinnati in 1940 where he finished High School in 1942. After St. Gregory's, he was at the Venard for two years, and then on to Philosophy studies at Maryknoll Seminary, Ossining. Father Hochwalt was ordained a priest at Maryknoll on June 9, 1951.
After ordination Father Hochwalt was assigned to special studies in Rome, Italy, and attended the Angelicum for Canon Law studies. He had one year of residency at Collegio Maryknoll, and for two years was privileged to serve as personal secretary to Pietro Cardinale Fumasoni-Biondi, Prefect of the Sacred Congregation de Propaganda Fide. He secured the degree of JCD (Doctor of Canon Law) in 1954, and returned to Maryknoll where he taught Canon Law and Moral Theology for three years.
In April 1957 Father Hochwalt was assigned to Tanganyika, to the newly formed Diocese of Shinyanga under Bishop Edward McGurkin, MM. His first assignment was to Sayusayu parish as a language student, and then on to his first parish ministry in Busanda parish. In 1960 he was transferred to Buhangija parish as Curate and later as Pastor, and acted as Chancellor of the Diocese.
In 1966 Father Hochwalt was sent to St. Paul's Major Seminary, Kipalapala, Tabora Archdiocese to teach Canon Law and Moral Theology. He was then Pastor of Bugisi parish in the Lohumbo area of Shinyanga for one year, after which he was moved to the Minor Seminary of St Pius X Makoko, a Seminary common to Shinyanga and Musoma where he taught from 1971 through 1975. He judged this assignment as one of the best he ever had, because he was instrumental in revamping the Seminary and keeping it open with new vigor and acceptance.
Father Hochwalt was assigned once more to parish ministry in late 1975, and from 1976 to 1982 he was pastor at Ng'wanangi-Nassa, then a four parish complex with constant work in out-stations. In the early 1960s Father Hochwalt was recalled to Society service at the Bedford Novitiate, and for a short time in the Treasury Office. He returned to Tanzania in 1982 and since 1983 had been at Buhangija acting in various capacities, Assistant Pastor with duties also as Secretary and Chancellor to the Bishop and Judicial Vicar. When Buhangija was restored as a Parish in 1990, he became pastor. And in 1997 the newly appointed Bishop of Shinyanga, Aloysius Balina, appointed Father Vicar General of the Diocese. Father Hochwalt served his entire mission career in Tanzania, in Shinyanga, with periods in Tabora and Musoma. He had returned to the United States for medical reasons in late September 2003 and was a resident of St. Teresa's at the time of his death.
Wake services were held at 4:30 p.m. on November 18, 2003 at St. Teresa's, with Father Thomas McDonnell officiating, and at 7:30 p.m. in Queen of Apostles Chapel at Maryknoll Center where Father Joseph McGahren officiated and Brother Kevin Dargan read the biography. Mass of Christian Burial was concelebrated in Queen of Apostles Chapel on November 19, 2003 at 11:00 a.m. Father John Sivalon was Principal Celebrant and Father Thomas Keefe homilist. Burial followed in Maryknoll Society Cemetery with Father John Barth conducting the graveside service.