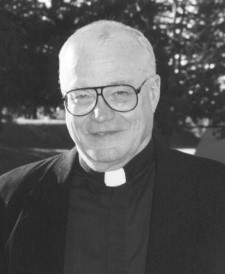 Father Richard B. Callahan, MM
Born: May 21, 1937
Ordained: June 13, 1964
Died: January 22, 2021
Father Richard B. Callahan died on January 22, 2021 at the Assisted Living Center at Maryknoll, New York. He was 83 years old and a Maryknoll priest for 56 years.
Richard Benton Callahan was born on May 21, 1937, in Pittsburgh, Pennsylvania, son of James Benedict and Hannah Marie Benton Callahan. He had one brother, James, and one sister, Marian (Limegrover); both deceased. He graduated from St. Raphael's Parochial School, Pittsburgh and entered Maryknoll Junior Seminary (Venard), Clarks Summit, Pennsylvania, in September 1951. He received a Bachelor of Arts degree in Philosophy from Maryknoll College, Glen Ellyn, Illinois, in June 1959 and a Bachelor of Divinity degree in Theology from Maryknoll Seminary, Maryknoll, New York in 1963. He received a Masters in Religious Education from Maryknoll Seminary, New York in 1964 and was ordained a priest at Maryknoll Seminary, New York, on June 13, 1964.
Father Callahan spent almost his entire mission career in the United States. After ordination, he was assigned to the Development Department where he worked first in St. Louis, Missouri before being transferred to the Chicago Development House in 1968. The following year he was appointed Director of the Milwaukee, Wisconsin Development House, and one year later he was named Director of the Philadelphia Development House.
On July 1, 1976, Father Callahan was assigned to Maryknoll's Central America Mission Region, and in April 1979 he was again assigned to the U.S. Region and appointed Director of the Development Department, serving in that capacity for two three-year terms. At the end of his second three-year term as Director of Development, Father Callahan agreed to continue on in that capacity for an additional year before being appointed Treasurer General on March 15, 1986. In 2002 he was named Chief Financial Officer for the Society, an office he held until October 31, 2010.
In 1992 he earned a Masters degree in Business Administration from Manhattan College, New York and in 1995 received a Professional Diploma from the NYU School of Continuing Education. Fr. Callahan completed several courses in Horticulture at the New York Botanical Gardens. His knowledge and interest in the Maryknoll property; particularly the variety of trees, enabled him to compile a directory and inventory of all of the species. Fr. Callahan was always eager to answer questions and share this information.
Father Callahan was a Chapter Delegate from the U.S. Region to the Ninth and the Eleventh General Chapters. He was also appointed Assistant to the U.S. Regional Superior in 1991 and again in 1994.
His great niece Melissa (Blythe) Altman and her husband Peter and their two children Evangelina (Evey) and Elijah (Eli) are Maryknoll Lay Missioners serving in El Salvador since January 2013.
A Mass of Christian Burial was celebrated in Queen of Apostles Chapel on January 26, 2021. Father Raymond Finch was Principal Celebrant and homilist. Brother John Blazo read the Oath and Father Rodrigo Ulloa-Chavarry read the biography. According to his wishes, Father Callahan was cremated after his funeral and his cremains were placed in the Maryknoll Columbarium at Maryknoll, New York.