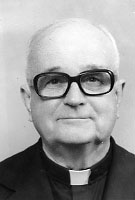 Father Richard B. Rhodes, MM
Born: June 28, 1902
Ordained: June  6, 1928
Died: April 27, 1995
Father Richard B. Rhodes died at El Camino Hospital, Los Altos, California at 2:28 a.m. on April 27, 1995. He was 92 years of age and a Maryknoll priest for almost 67 years.
Richard Brunsted Rhodes was born in Honolulu, Territory of Hawaii, on June 28, 1902, only son of Carl C. and Clara McCarthy Rhodes. He had two sisters, one of whom is Sister M. Richard, O.P. of the Dominican Convent of San Rafael, California. He was a cousin of Fr. Charles McCarthy, former General Council member and the Maryknoller most responsible for the shaping of the Society's present-day Development Department. He attended Punahou Preparatory and High School in Honolulu and graduated in June 1920. He attended the University of California Affiliated College for Dentistry for two years. In September 1922 he entered St. Patrick's Seminary, Menlo Park, California, to study for the Archdiocese of San Francisco. On September 6, 1925, he entered Maryknoll Seminary in New York and received his Bachelor of Divinity degree in Theology from the Catholic University of America, Washington, D.C. He was ordained a priest for Maryknoll on June 16, 1928 in St. Mary's Cathedral, San Francisco, California.
After ordination, Father Rhodes was assigned to the faculty of Maryknoll Apostolic College (Venard), Clarks Summit, Pennsylvania for two years. Next he was assigned to Maryknoll promotion work in San Francisco. On January 1,1931, he was assigned to the Maryknoll Mission in Kaying, Kwantung Province, South China. He acquired a good command of the Hakka language and was appointed Rector of the St. Thomas Aquinas Hostel for high school students and Procurator of the Kaying Mission Vicariate. He served in that capacity until June 1938 and then was appointed Chancellor and Assistant Pastor of the Kaying Cathedral. In 1940 he was appointed Pastor of the Chiuling Mission. During a decennial year in the United States in 1944, he did promotion work in San Francisco, Nevada; and Oregon.
Among the first group of missioners to return to China after World War II, Fr. Rhodes went to Kaying on January 1, 1946 and was placed in charge of the isolated Tungshek mission with about 400 Catholics widely scattered villages. He gained about 40 to 50 converts a year. He remained in Tungshek until the Communists moved into Kwantung Province in 1950. His mission was searched and he was kept under house arrest for ten months. On October 10, 1951, he was expelled from China to Hong Kong. He returned to the United States on February 6, 1952. After a period of recuperation, he was assigned to the Maryknoll Promotion House in Houston and spent many months in New Mexico. On October 27, 1953, he was transferred to the Brookline Promotion House for promotion work in New England for a few months and then moved to the San Francisco Promotion House. Besides promotion work, he served as special assistant to the Local Superior as the West Coast Procurator for the Maryknoll missions in the Orient. On December 15, 1956, he was assigned to the Seattle Promotion House.
On April 11, 1957, Father Rhodes was assigned back to the Maryknoll Mission in Taiwan and served in the Miaoli Deanery for the next 34 years. He was Mission Procurator and bookkeeper and House Superior of Maryknoll's Taipei House. After a home leave in 1963, he returned to Miaoli and resumed his work as the Mission Procurator and Director of the Miaoli Center House. In 1968, Fr. Rhodes was made the Regional Financial Assistant with residence in the Taichung Regional Center House for over five years.
Father Rhodes became a member of the Special Society Unit on July 15, 1979 at the age of seventy-seven with residence in Taiwan where he continued to work in Miaoli as Director of the Center House and accountant for the Miaoli Deanery. On March 1, 1991, at the age of 89, he moved to Maryknoll Residence in Los Altos, California.
During his active missionary career and even in retirement, he was known to be a dedicated, hard worker, both for the Society and for the people he served pastorally. One Superior wrote: "It would be very hard for me to say how much work he puts in on Society work and the cooperation I get from him." Another wrote that he is "a solid priest, calm and well contained, and a diligent worker with an easygoing disposition." Two other former Superiors said after his death: "Fr. Rhodes was a real gentleman – a good man to be with. He could talk to anyone and anyone could talk to him. Everyone felt comfortable with him." An old friend of his wrote: "In those happy Miaoli days, 'Dusty' was an inspiration and always a happy host to our frequent visits to the Center House – an excellent example of Maryknoll generosity and hospitality."
A wake service for Fr. Rhodes was held at Maryknoll Residence, Los Altos, California on Sunday, April 30, 1995 at 8:00 p.m., presided over by Rev. John McCabe. His funeral mass was held in the Residence chapel on Monday, May 1, 1995, at 11:00 a.m., with Rev. Joseph J. O'Neill as principal celebrant and Rev. Edwin McDevitt as homilist.