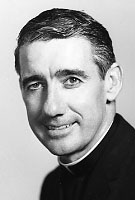 Father Richard E. Downey, MM
Born: April 28, 1918
Ordained: June 11, 1944
Died: December 31, 2003
Father Richard Downey died on December 31, 2003 at St. Teresa's Residence. He was 85 years old and a Maryknoll priest for 59 years.
Father Downey was born on April 28, 1918 in Yonkers, New York, son of John Joseph Downey and Cecilia Moffatt. He had one brother, John and one sister, Cecil. He attended St. Mary's Parochial School, graduated from Yonkers Public High School and from Cathedral College in New York City in June of 1937, and then studied at St. Joseph's Seminary, Dunwoodie, Yonkers from September 1937 to June 1939, where he obtained a Bachelor of Arts degree in Philosophy.
On September 1, 1939, he entered Maryknoll Novitiate, Bedford, Massachusetts, and was ordained a priest at Maryknoll Seminary in Ossining, New York on June 11, 1944. After ordination Father Downey was assigned to graduate studies in English and American Literature at Notre Dame University in South Bend, Indiana. He obtained a Bachelor of Arts degree in Literature in June 1945. He was assigned to the Faculty of Maryknoll Junior College in Brookline, Massachusetts, to teach English and Latin to seminarians, many of whom were veterans of World War II. Also he was in charge of the school paper and Director of the Seniors.
On April 28, 1948, Father Downey was assigned to the Maryknoll Mission in Kaying, Kwangtung, South China under Bishop Francis Ford. After language studies he was appointed Assistant Pastor of the Maryknoll Mission in Hoping Hsien among Hakka speaking people. When the Communists took over South China in 1950, Father Downey and others were placed under house arrest with minimal association with the people. He was expelled to Hong Kong from China on June 29, 1952.
On July 16, 1952 Father Downey was assigned to the Maryknoll Mission in Taichung, Taiwan for pastoral work among Hakka people. He was appointed Pastor of the newly opened Tung Hsi mission with only a few Catholic families. He spoke Hakka and Mandarin languages very well and was successful in gaining many converts. After a home furlough in 1955 he returned to Tung Hsi as Pastor. He engaged in teaching English to schoolteachers and community leaders to gain acceptance among them; and since he had no male catechists he taught his own convert instruction courses.
In 1957 he was appointed Pastor of a new mission in Hsin She. There he developed a successful correspondence course in the Catholic religion for those who could not come to church for instructions. During his 20 years in Hsin She he developed a well organized parish. He worked well with the people and was highly respected. His Superior wrote that: "Father Downey has been in the area in which he is now working for the whole time he has been on the Island. All of the work done in the area basically is the result of the good foundation he put down."
On December 12, 1965 Father Downey was elected Chapter Delegate for the Taiwan Region and attended the 1966 General Chapter at Maryknoll Center in New York. He returned to Taiwan on June 6, 1968 and was appointed First Consultor to the Regional Superior, as well as Pastor of his Hsin She parish.
On July 1, 1977, Father Downey was assigned to the United States Region for work in the Development Department. He served for two years in the Los Angeles Development House. He returned to Taiwan on July 1, 1979. After his return he was appointed Director of the Taipei Society House. He also worked as a teacher in the National Taiwan University, at the Ministry of Foreign Affairs, and with the China Youth Corps. Due to poor health he returned to the United States in 2000, and lived at St. Teresa's Residence until his death.
Father Downey maintained deep and lasting friendships with the people of Taiwan. Among his many visitors, while he was at Mission St. Teresa, was a family that attributed its survival to his generosity. He provided lunches for his students, knowing that they would take the food home and that it would be the only food the family would have. An old man came from Taiwan to thank him for enabling his family to survive those difficult times. Others spoke of his help with housing and education that enabled them to not only survive but to go on to much better things.
Wake services were held at 4:30 p.m. on January 4, 2004 at St. Teresa's, with Father Thomas McDonnell officiating, and at 7:30 p.m. in Queen of Apostles Chapel at Maryknoll Center where Father William Frazier officiated and Father Lawrence Lewis read the biography. Mass of Christian Burial was concelebrated in Queen of Apostles Chapel on January 5, 2004 at 11:00 a.m. Father John Moran was Principal Celebrant and homilist. Burial followed in Maryknoll Society Cemetery with Father Francis McGourn conducting the graveside service.