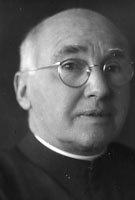 Father Richard E. Power, MM
Born: August 20, 1886
Ordained: July 10, 1911
Died: April 12, 1970
Richard E. Power was born in Waterford, Ireland on August 20, 1886. He became a citizen of the United States by virtue of his father's naturalization in 1902 in Northampton, Mass. His early education was at St. Michael's Grammar and High Schools in that city and in 1905 he was graduated from St. Rose College, Springfield, Ky. He attended St. Bernard's Seminary in Rochester, N.Y. from 1906 until 1912 and was ordained for the Springfield Diocese on July 10, 1911. After many years in the New England area he had permission to work in the Southwest.
Father Power entered Maryknoll in July, 1947 and took the Perpetual Oath in 1951. He was assigned to Mountain View and taught special Latin and English classes.
Father was taken to the hospital on April 9, 1970. He died at the El Camino Hospital on April 12, 1970.
The funeral Mass was said at Mountain View, with Father Arthur Dwyer as principal celebrant and Fr. Edward Weiss preaching the homily.