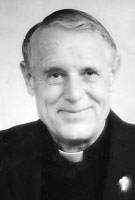 Father Richard E. Zeimet, MM
Born: July 10, 1930
Ordained: June 13, 1964
Died: April 17, 2012
Father Richard Zeimet died at Phelps Memorial Hospital, Sleepy Hollow, New York in the evening of April 17, 2012. He was 81 years old and a Maryknoll priest for 47 years.
Richard Ervin Zeimet was born on July 10, 1930, in St. Paul, Minnesota, to Ervin Clement and Anna Kostolnik Zeimet. He was one of six sons and one daughter. Richard attended St. Andrew's Grammar School and graduated from St. Agnes High School in St. Paul in 1948. After graduation he enlisted in the U.S. Air Force Reserve, serving overseas during the Korean War. He was honorably discharged from active service on September 6, 1952 with the rank of Airman 1st Class Personnel Specialist. He stayed in the Air Force Reserve and held the rank of Staff Sergeant when he resigned to join Maryknoll on September 8, 1954 at the Maryknoll Junior Seminary (Venard), Clarks Summit, Pennsylvania.
He received a B.A. in Philosophy from Maryknoll College, Glen Ellyn, Illinois, on June 7, 1959, and a B.Div. from Maryknoll Seminary, Maryknoll, New York in 1963. Father Zeimet was ordained a priest at Maryknoll Seminary, New York, on June 13, 1964.
After ordination Father Zeimet was assigned to the Maryknoll Mission Region in Taiwan, Republic of China. He served there for his entire missionary career. Following language study he was assistant pastor at the Bamboo Mountain Parish from 1966 until the beginning of 1968, when he was assigned to the Nantou Catholic Church, first as assistant pastor and several months later as pastor. He served as pastor for 19 years.
In 1970 Father Zeimet founded and continued as Director of the Hu-Ai (Mutual Love) Communications Service Center in Taichung, developed to spread the Gospel among the people of Taiwan. The Center made use of all forms of media and communication methods, including video taped programs, radio programs, poster programs, and other forms of communication. Besides its apostolic outreach projects, the Center assisted workers in the apostolate to develop their own communication programs.
The Center ran the Holy Love Summer Camp at Sun Moon Lake from June to the end of October, with an evangelistic spiritual program and a broad range of physical recreation activities. Nearly 10,000 young people participated in the Camp each year. The Center also operated the Price-Meyer Good News Printing Press. This was an apostolic memorial to Fathers Thomas F. Price and Bernard F. Meyer, two Maryknollers who used the printed word to spread the Gospel. Father Meyer's Mission Cross hangs in the press room.
In October 2001 Father Zeimet was quoted in Maryknoll in touch, "All my mission life has been dedicated to searching for the best ways to use the communications media to proclaim the message of Jesus to the people of Taiwan…"
In April 2008 Father Zeimet returned to the United States and took up residence at Mission St. Teresa's and was assigned to the Retirement Community in August of that year.
Wake services were held at 4:30 p.m. on April 19, 2012 at St. Teresa's, and at 7:30 p.m. in Queen of Apostles Chapel at Maryknoll Center where Father Joseph La Mar officiated and Father John Moran read the biography. Mass of Christian Burial was concelebrated in Queen of Apostles Chapel on April 20, 2012 at 11:00 a.m. Father Richard Callahan was Principal Celebrant and Father Ernest Lukaschek homilist. Burial followed in Maryknoll Society Cemetery.