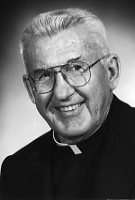 Father Richard G. Laszewski, MM
Born: February 22, 1922
Ordained: June 9, 1951
Died: February 12, 2012
Father Richard G. Laszewski died on February 12, 2012 at the Maryknoll Residence in Los Altos, California. He was 89 years old and a Maryknoll priest for 60 years.
Richard George Laszewski was born on February 22, 1922 in Stevens Point, Wisconsin, son of Anthony Laszewski and Hedwig Szarafinska Laszewski. He had six brothers and five sisters. His father was a farmer, woodsman, Studebaker salesman and Town Supervisor. Richard attended St. Peter's Parochial School, the Glinski Rural School and St. Mary's High School in Orchard Lake, Michigan. He then spent two years working as a lumberjack before entering the Polish-American seminary at Orchard Lake, Michigan. He studied there for seven years before transferring to Maryknoll Junior Seminary (Venard), Clarks Summit, Pennsylvania on October 21, 1945. He received a Master of Theology Degree at Maryknoll Seminary, New York and was ordained a priest on June 9, 1951.
After ordination Father Laszewski was assigned to Maryknoll's Mission in Bolivia, where he worked among the isolated communities in the tropical rainforests. Traveling by boat and on horseback he visited the different settlements, including those of the Chama Indians, along the wide, muddy rivers of the Pando Vicariate. He taught catechism, promoted cooperatives and, when necessary, attended to the health needs of farmers, rubber tree cutters and Brazil nut gatherers. Once in an emergency he successfully set the leg of a man who had suffered a compound fracture.
After home leave in 1959, Father Laszewski was assigned to the Peru Region. In 1960 as assistant pastor in the Juli Prelature, he served on the Juli Mission Band, traveling among various parishes of the high, wind-swept Altiplano administering the sacraments and putting on slide shows from the back of a truck for the Aymara people. Four years later he founded the Institute of Rural Education, which continues to this day. The IER, one of Father Laszewski's proudest accomplishments, provides men and women with a variety of courses in such areas as agriculture, animal husbandry, leadership and the social teachings of the Church.
"Through IER we promoted people's freedom,"said Father Laszewski. "Their bosses never taught them they could run things themselves. A lot of IER is about breaking the patron system."
After he directed the Juli IER for eight years, a health issue forced him to turn the helm over to others. He moved from the mountains down to the Peruvian coastal city of Huacho, where he founded another highly successful IER. Students came to the institute's simple cement-block headquarters from every valley and mountainside in Peru and even from neighboring Bolivia. They attended an intensive two-month program that rousted them out of bed at dawn to do calisthenics, hoe fields, feed animals, attend classes, balance co-op accounting ledgers, play soccer and pray.
After nineteen years in Huacho, Father Laszewski was invited by the Yanesha people, who live in the jungles of central Peru, to set up an IER for their communities. But when he arrived there, the area was being ravaged by a bloody terrorist conflict. Shining Path Guerrillas and members of the Tupac Amaru Revolutionary Movement were pitted against the police and military; drug traffickers and paramilitary squads were also part of the deadly mix. Atrocities were committed regularly by all sides. The victims, more often than not, were small farmers and indigenous peoples. Many fled their homes. Everyone lived in fear. Father was forced to put his plans for an IER on hold.
Father Laszewski then became pastor of La Merced Parish in Iscozacin where he dispensed medicine and helped the people with a project to raise and market shrimp. Together they also built a new church. In 2003 Father moved to Lima, Peru where he resided until November 2004, when he joined the Retirement Community. At that time, he took up residence at the Maryknoll Residence in Los Altos, California, where he lived until his death.
Wake services were held at 7:00 p.m. on February 16, 2012 in the Maryknoll Chapel in Los Altos, California, where Father William M. Boteler presided and Father Edward I. (Lou) Quinn read the biography. Mass of Christian Burial was concelebrated in the Maryknoll Chapel in Los Altos on February 17, 2012 at 10:30 a.m. Father Bernard P. (Pete) Byrne was Principal Celebrant and homilist. Burial followed in the Maryknoll Society Cemetery in Los Altos with Father Robert J. Carleton conducting the graveside service. A memorial Mass was held at Maryknoll, New York. Father Laszewski's family also held a memorial Mass in Stevens Point, Wisconsin in March, 2012.