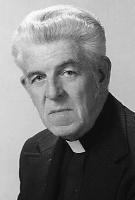 Father Richard H. Allen, MM
Born: July 3, 1915
Ordained: June 11, 1944
Died: October 11, 1976
Maryknoll suffered a great loss in the death the evening of October 11 at Phelps Memorial Hospital of Father Richard H. Allen.
Father Dick Allen was born in Providence, Rhode Island on July 3, 1915, and received his early education in local schools. He joined Maryknoll in September 1930, studied at the Venard, Bedford, and Maryknoll, N.Y., and was ordained June 11, 1944. Although he made various visits to the Mission Regions, Father Allen spent his entire life as a Maryknoll Missioner in unstinting service to the Society's educational and administrative work in the United States. He received a Ph.D. in Biology after studying at De Paul University in Chicago in 1944-45, and also received an M.A. in Education from the University of Scranton in 1957. He served at Brookline 1945-49, at Glen Ellyn 1949-50, at Lakewood 1950-51, and at the Venard from 1951-61 including two terms as Rector. He was Rector at St. Louis and the Chesterfield Seminary from 1961-1964. He was again at Glen Ellyn from 1964-67, serving as Procurator there in 1966-67.
In 1967, Father Allen took on the difficult and demanding work as Director of Center Development, and was in his third term in that position at the time of his death. He served on the Central Salaried Personnel Board from its establishment in 1972, and in 1975 was also named Assistant Director of the Development Department for Center Operations.
Father Allen signed the letters which go out to Maryknoll friends in all parts of the U.S., and was in daily contact with the employees at the Price Building. He was the Maryknoller whom many people in the U.S. saw as the incarnation of the Maryknoll spirit, and they have lost a man tremendously valued as friend and colleague. To get on with our missionary work, Father Allen gave his full energies for the Society and for mission; he displayed a constant willingness to serve the Society in any capacity he was called upon to serve. To some he seemed to have a mask of initial gruffness behind which there was a remarkable sensitivity to all people and to all human situations. We pray that he is now with the Father and may continue to encourage all of us from his place in heaven. May he rest in peace.
The wake for Father Allen was held at 3 p.m., Wednesday, October 13, at the Maryknoll Chapel, where there was a Vigil Service at 7:30 p.m. Wednesday evening. Mass of the Resurrection was concelebrated at 11:45 a.m. on Thursday, October 14, at the Maryknoll Chapel. Burial followed in the Maryknoll Cemetery.