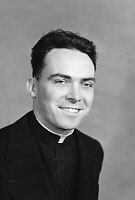 Father Richard J. Sammon, MM
Born: November 29, 1928
Ordained: June 9, 1956
Died: June 11, 2007
Father Richard J. Sammon died in Portezuelo, Chile on June 11, 2007. He was 78 years old and a Maryknoll priest for 51 years.
Richard James Sammon was born in Brooklyn, New York on November 29, 1928, son of James and Eileen O'Brien Sammon. He attended St. Luke's Parochial School and St. Rose of Lima grade schools and then studied at Cathedral College in New York City, completing his high school requirements and two years of college study, before joining Maryknoll in September 1949. He received a Bachelor of Arts degree in Philosophy in 1951; a Bachelor of Sacred Theology in 1955; and a Master of Religious Education in 1956. He was ordained a priest on June 9, 1956 at Maryknoll, New York.
After ordination, Father Sammon was assigned to the Maryknoll Mission Region in Chile where he worked with poor farmers, primarily in Portezuelo, for his entire mission career. He also served two terms as Maryknoll's assistant regional superior in Chile (1983-89).
The only priest in Our Lady of Mount Carmel parish serving Portezuelo and 23 hill communities surrounding the village, Father Sammon learned early on that education for their children was a top priority for his parishioners, so he made their education his top priority as well. "The only road to a better tomorrow for our young people is education," he once said. He became the driving force behind the parish's school system which now operates four elementary schools in the hills and an elementary and high school in town, educating more than 750 children. Nearly 30 percent of the parish's high school graduates go on for university studies.
While promoting education to lift peasant farmers from their poverty, he also worked to help them keep alive the beauty and values of campesino tradition and culture. The annual two-day cultural festival that he instituted has grown to draw more than 4,000 visitors to Portezuelo, with a musical show that includes professional dancers and musicians as well as local folk singers or cantoras, a rodeo, an artisan fair and a procession and open-air Mass.
Father Sammon also gave life to traditions that today form part of the outstanding festivals of the Province of Nuble Duch as the Fiesta of the Grape Harvest and of the Threshing in Portezuelo, the Festival of Criollo Roots, the festival of Musicians, the Cross of May and the blessing of the wheat, among others.
A few weeks before his death, Father Sammon received a decoration from the government: The Order of Bernardo O'Higgins, and also a papal greeting for his long career of service to the Church. Father Sammon died as a Chileno since he had become an honorary citizen, one of the highest honors that the country gives to distinguished foreigners.
Father Sammon was granted retired status in 2001, but continued to live and work in Portezuelo. His last wish before he died was "I want to be buried in the Portezuelo cemetery". He left this wish in writing because of the love he had for this town where he carried out his evangelizing mission for 50 years among the campesinos (peasants).
A wake was held on June 12 and 13, 2007 in Portezuelo, followed by a funeral Mass on June 14, 2007. Father Sammon was buried in the Portezuelo cemetery A Memorial Mass was held at Maryknoll, New York.