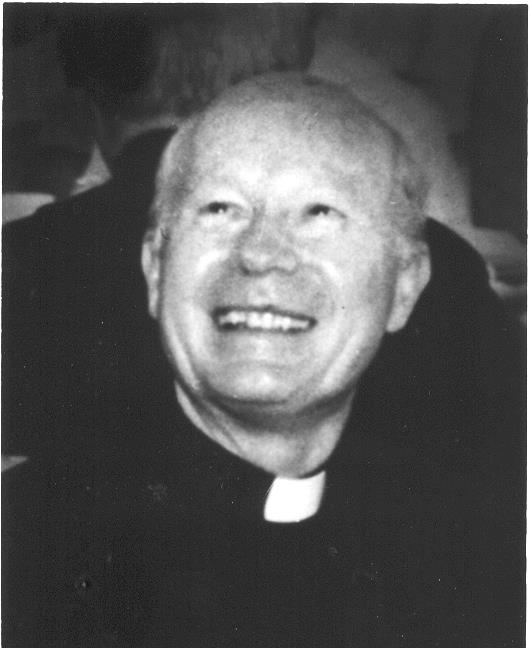 Father Richard L. Brooker, MM
Born: April 24, 1930
Ordained: June 11, 1955
Died: March 11, 2015
Father Richard L. Brooker died on March 11, 2015 at Mission St. Teresa's, Maryknoll, New York. He was 84 years old and a Maryknoll priest for 59 years.
Richard Lloyd Brooker, one of four children of Lloyd and Caroline Radez Brooker, was born at his family home on Brooker Hollow Road in the township of Worcester, New York, on April 24, 1930. He went to a one-room country school until the 7th grade and then attended Worcester Central School, graduating in 1946. He attended Fordham College, Bronx, New York, for two years before entering Maryknoll in September 1948.
After his ordination on June 11, 1955, Father Brooker studied Music at Catholic University, Washington, D.C., where he received his Master of Music Degree in 1957. He then taught Gregorian Chant and Music at Maryknoll College, Glen Ellyn, Illinois, until June 1963, at which time he received his mission assignment to Chile.
Father Brooker spent his entire missionary career in pastoral work in Chile. His first assignment was to the Fatima Parish in Talca. After two years there, he was sent to the Parish of San Vicente de Paul in Chillan, where he later became pastor and continued to work until 1980, when the parish was turned over to the Diocese of Chillan.
In 1981 after participating in the Mission Renewal Program at Maryknoll, Father Brooker spent six months in the San Juan de Dios Parish in Santiago. After this, he went to a working-class section of the city of San Bernardo, as part of a team of four Maryknollers, where the Parish of Divino Maestro was established. After ten years, the decision was made to turn the parish over to the newly formed Diocese of San Bernardo.
Father Brooker was active in the Scout Association of Chile as National Pastoral Commissioner during the time between 1981 and 1992. One section of the Divino Maestro Parish area was relatively new, having been formed on land taken over by poor families. Father Brooker and Father John Gallahue continued to work in this area, which was set up as the new parish of San Vicente de Paul. Father Brooker worked in this parish until January 2000 when, because of health problems, he moved to the Parish of Santa Margarita de Escocia in Santiago, continuing there in part-time service. In October 2004, he was assigned to the Retirement Community, and in March 2005 he took up residence at Maryknoll, New York. In June 2007, he moved to St. Teresa's Residence, Maryknoll, New York.
Father Brooker said on his fiftieth anniversary, "I am deeply grateful to Almighty God for having given me fifty years in the priesthood and to have worked during forty-one of those years with the Church in Chile. Whatever remains of my life as a missionary priest, I hope to dedicate it to the mission cause, even though I may no longer be an active missioner in the fields afar."
A Rosary and wake service was held at 4:00 p.m. on March 16, 2015 at St. Teresa's. The body was received at the Maryknoll Society Center at 9:15 a.m. March 17, 2015. Father Brooker's family received condolences and prayers until 10:45 a.m. in the Lady Chapel. The biography was read by Father Paul Masson. Mass of Christian Burial was concelebrated in Queen of Apostles Chapel on March 17, 2015 at 11:00 a.m. Father Ernest C. Lukaschek was Principal Celebrant and homilist. Burial followed in Maryknoll Society Cemetery with Father Thomas J. O'Brien conducting the graveside service.