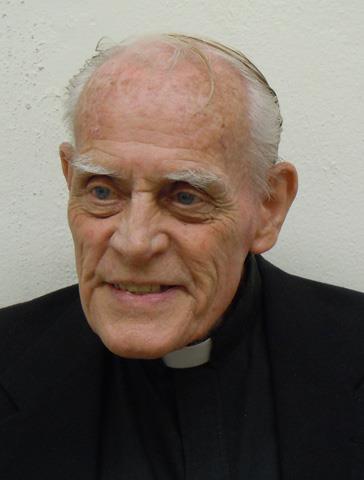 Father Richard L. Clifford, MM
Born: August 27, 1927
Ordained: June 13, 1953
Died: November 27, 2016
Father Richard L. Clifford died on November 27, 2016 at Mission St. Teresa's, Maryknoll, New York. He was 89 years old and a Maryknoll priest for 63 years.
Richard Lawrence Clifford, son of Jeremiah John and Mary Alice Olan Clifford, was born on August 27, 1927 in St. Paul, Minnesota, where his father was on a temporary assignment from Anaconda, Montana.
In Anaconda, he received his Primary education in St. Paul's Parochial School and graduated from St. Peter's Catholic Central High School in the same city. Three years later, in June of 1948, he graduated cum laude with a Bachelor of Arts degree from Carroll College, Helena, Montana. On September 1, 1948, he entered the Maryknoll Novitiate at Bedford, Massachusetts. In September of 1949, he began his theological studies at Maryknoll Major Seminary, in Ossining, New York where he received his Master of Religious Education degree. He was ordained a missionary priest at Maryknoll Major Seminary on June 13, 1953. The following day in St. Patrick's Cathedral, New York City, he was formally assigned to the Maryknoll Mission Region in Peru, South America.
Following Spanish language and cultural studies at the Maryknoll Language Institute in Cochabamba, Bolivia, he was assigned to teach in the San Ambrosio Seminary, run by the Maryknoll Fathers in Puno, Peru. After a couple of years in that assignment and in brief assignments to the Andean pueblos of Ayaviri and Azangaro, Father Clifford was transferred, in 1957, to the capital city of Lima, Peru. There, he engaged in a variety of pastoral and social works and exercised a Journalistic apostolate. For several years, he wrote a daily column for "La Prensa," one of Peru's leading secular newspapers.
In 1968, Father Clifford was named Pastor of the Maryknoll Parish of Nuestra Señora del Pilar in the Southern-Central Andean city of Arequipa. There, he combined his pastoral duties with his position as Director of the Parochial Grade and High School, along with social and journalistic work.
In April, 1973, Father Clifford was transferred to the United States to serve in the Maryknoll Development House in Seattle, Washington. He wrote a short history of this experience in a work entitled "A Northwest Passage." After three years, he was assigned to Collegio Maryknoll in Rome, Italy, to participate in theological updating courses at the Institute for Continuing Education at Casa Santa Maria in Rome.
On April 1, 1977, Father Clifford was assigned to the Social Communications Department at Maryknoll, New York. After a year, he returned to Lima, Peru and engaged in historical research and writing. He composed two manuscripts, one entitled "Tears of His People," a biography of veteran missioner, Father John Lawler, M.M., and another manuscript entitled "A Missionary Profile in Silver," relating missionary experiences of two other veteran missioners. On the occasion of his twenty-fifth anniversary of ordination in 1978, he composed "Appreciation of the Silver Jubilee Celebration of the Class of 1953."
In 1979, Father Clifford studied creative writing skills at the University of Washington in Seattle and that same year, authored a book entitled "A Human Touch," containing a series of interesting, personal encounters in various mission situations in Peru, Bolivia, Colombia and Guatemala.
In December 1980, Father Clifford began a new mission career in the Maryknoll Mission Region in Mexico and was appointed Assistant Pastor of San Sebastian Parish in Mérida. In January of 1983, he was appointed 2nd Assistant to the Regional Superior of the Mexico Mission Region. Three years later in January 1986, he was appointed Regional Superior for the Region for a three-year term. He was reappointed for a second term in June 1989. While serving as Regional Superior in Mexico, Father Clifford directed a Social Service Center in Mérida and a lunch program for undernourished children. He was Coordinator of the Diocesan Health apostolate and also spent several hours a week at the Major Seminary for confessions and consultation. Father Clifford also wrote a weekly column "A Human Touch" ("El Toque Humano") for the local newspaper, and published a work entitled "El Diario de David."
In May 2001, Father Clifford was appointed Assistant Regional Superior and Coordinator in the North District of the Latin America Region. In this capacity, he was Chapter delegate to the 11th General Chapter in 2002. He was re-appointed Assistant Regional Superior for Latin America until October 2004 and continued his work serving the people of San Sebastian Parish in Mérida, Yucatán, Mexico.
Maryknoll's mission in Mexico ended in late 2011, and Father Clifford was assigned to the Retirement Community in December 2011. In March 2012, he took up residence at Los Altos, California, and, in December of that same year, he moved to Mission St. Teresa's, Maryknoll, New York.
A Rosary and wake service was held at 4:00 p.m. on Thursday, December 15, 2016 at Mission St. Teresa's. The body was received at the Maryknoll Society Center at 9:30 a.m. on Friday, December 16, 2016. Father Clifford's family received condolences and prayers until 10:45 a.m. in the Lady Chapel. The biography was read by Fr. Kevin Hanlon. Mass of Christian Burial followed at 11:00 a.m. and was concelebrated in Queen of Apostles Chapel. Father Stephen Judd was Principal Celebrant and Father Joseph Kowalczyk was homilist. Burial followed in Maryknoll Society Cemetery.