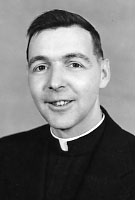 Father Richard M. Devoe, MM
Born: March 30, 1924
Ordained: June 9, 1956
Died: July 22, 2006
Father Richard Devoe died in Taiwan on July 22, 2006. He was 82 years old and a Maryknoll priest for 50 years.
Richard Moore Devoe was born in Neponset, Massachusetts on March 30, 1924, the third son of Charles Lawrence and Grace Goodrich Devoe. He has two brothers and four sisters. Richard attended Saint Ann's Grammar School in Neponset, and after graduation in June 1937, went on to Mission Church High School in Roxbury, graduating in June 1941. With war clouds gathering, he went to work as an electrician's apprentice until he entered the U.S. Navy in April 1943. After high-tech training in San Diego he went aboard the USS Melville AD-2, a Destroyer Tender in the North Atlantic, as a Fire-Controlman responsible for maintenance and repair of automated anti-aircraft guns on board destroyers of the North Atlantic Fleet. His ship took part in the invasion of France on D-Day. Later he was transferred to the Pacific, and assigned to the USS Kenton, with Commander Frederick P. Gehring, CM, of Guadalcanal fame, on board as Chaplain. Seas permitting, there was almost daily Mass for the crew and for the troops in transport. This close association with Father Fred rekindled the dream of a priestly vocation that had been lit by the dedicated service of the priests of St. Ann's Parish.
In 1946 he returned to Lexington, Massachusetts, where he worked again as an electrician's apprentice, securing his Commonwealth of Massachusetts Journeyman Electrician's license in July 1947. He kept renewing the license for the next 50 years. He entered Boston College in September 1947, and two years later joined Maryknoll. He was assigned to the college program at Lakewood, New Jersey for one year, and then went to Glen Ellyn to obtain his Bachelor of Arts degree in Philosophy. After a Novitiate year at Bedford during which he designed and installed the electrical wiring for the new Veterans' Chapel, he began his theological studies at Maryknoll, New York in the Fall of 1952, received a Bachelor of Sacred Theology degree in 1955, and was ordained a priest in the new Chapel there on June 9, 1956.
After ordination Father Devoe was assigned to the Maryknoll Mission Region in Taichung, Taiwan. He studied the Taiwanese language for a year and then was assigned as assistant pastor to Father Joseph McDonald, M.M. for a year, during which time he designed the electrical wiring for the new church and rectory. After six months of further Taiwanese language study, Father Devoe was assigned as assistant pastor in Bamboo Mountain. In the Fall of 1960 he was assigned further up the mountain to be assistant pastor in Deer Ravine, and then as assistant pastor in St. Patrick's Parish in Hong Goan. In 1962 Father Devoe was assigned to the Brookline, Massachusetts Development House. After nearly two years there, he was re-assigned to the Taiwan Region and was the Director of the Maryknoll Fathers Taipei House.
In the Spring of 1964 Father Devoe began Mandarin Language studies in Taichung, and in the late Fall Bishop William Kupfer, M.M. assigned him to work with the Native Formosan (Aboriginal) Atayal people in the Nakahara and Bai-Khe Parishes. He gave each of these mountain parishes, located two hours apart, three days and three nights per week. Within a year Bishop Kupfer asked Father Devoe to establish credit unions in the Diocese. The schedule was changed to two days and two nights each week for the two parishes, and two days and two nights each week for the credit union promotion around the Diocese. Father Devoe maintained his schedule of two days and two nights each week to each of his three main responsibilities in the Diocese of Taichung for 37 years! During those years he did all of the maintenance and repair on his two Scout International Harvester four-wheel drive vehicles. The credit union movement blossomed in the central area thanks to the wonderful assistance of Mr. Matthew Ong.
Among the Atayals men hunt and women weave, so Father Devoe hunted with the men and taught a dozen women in each parish how to move up from 'back-strap' weaving to 'jack-loom' weaving, which is much more efficient and a lot easier on mommy's back! Each of the weavers learned 1300 new patterns, which even now are a welcome source of income for them.
As Vatican II allowed the use of the vernacular in the Liturgy, week by week the texts were translated into two Atayal languages. They were published in Japanese Katakana script for the older people, while directly below the Katakana text were the same sounds indicated by Roman letters for the younger people who could handle the ABC's of it. Gradually all of the needed prayers and songs were done in this manner. Finally, in 2005, the four Gospels and the Acts of the Apostles were published in the southern Atayal language. The Pauline and the Catholic Epistles as well as the Book of Revelations are all translated, but need some polishing before they can be published.
On September 21, 1999 Father Devoe lost two churches and two rectories to an earthquake, with another church suffering heavy damage. After some months the Bishop had a temporary rectory built in Bai Khe, and subsequently the Nakahara Church was repaired and a new rectory built over the old Doctrine Hall, a wonderful home in the mountains! Father Devoe was relieved as pastor of the Bai Khe Parish in May 2002, and as pastor of the Nakahara Parish in April 2006 by the Bishop of Taichung, Most Rev. Joseph Wang. However, he continued his work of training volunteers at the Populorum Progression Institute in Taichung City until illness necessitated his return to the United States in January 2006.
On July 24, 2006 the Maryknoll community in Taiwan celebrated Mass for Father Devoe.Most of the Maryknoll priests and Sisters were present. In the evening, the Atayal mountain people came to take the body of Father Devoe to his former parishes in the mountains. A funeral Mass was held on July 29, 2006, with Bishop Joseph Wang as principal celebrant and Father Paul Duffy, M.M.as homilist and was followed by cremation. Several nephews attended the funeral, and took the ashes with them on their return to the United States. His ashes were buried with his parents, according to Father Devoe's wishes. On July 26, 2006 there was a memorial Mass for Father Devoe at the Maryknoll Centerhouse in Taichung for his friends in the Taichung area. A Memorial Mass was held at Maryknoll Center on August 8, 2006.