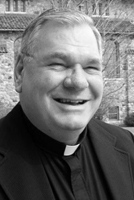 Father Richard R. Fries, MM
Born: March 1, 1948
Ordained: May 27, 1976
Died: April 26, 2014
Father Richard R. Fries died on April 26, 2014 at Creek View Hospice in Las Vegas, Nevada.  He was 66 years old and a Maryknoll priest for 37 years.
Richard Ralph Fries was born to Joseph and Marcella Bergmann Fries on March 1, 1948 in Germany, where his father was stationed with the U.S. Army.  He had a brother, Joseph (deceased), and a sister, Judy.  He attended St. John Vianney Grammar School in San Jose, California where the family lived before moving to the mountain town of Pioneer, California.  He entered St. Joseph's College High School in Mountain View, California in September 1962.  He completed studies at the Maryknoll College, Glen Ellyn, Illinois in 1970. After theology studies at Maryknoll, New York he was assigned to the Overseas Training Program in the Philippines.  In Davao, he studied the Visayan Cebuano language and then worked in the Parish of Santo Tomas in the then Prelature of Tagum.
Following ordination on May 22, 1976, the newly ordained Father Fries returned to the Philippines and began work in the largest squatter area in Quezon City (Tatalon area).   He lived in the area and the work included a home for poor youth in order to prep them up for studies in high school and college. During this time he studied Tagalog and taught theology courses at Maryknoll (now Miriam) College.  In May 1978 he was appointed Second Regional Assistant for the Region.  During his time in the Philippines he fulfilled the course requirements for a degree in Theology at the prestigious Loyola School of Theology, but due to a heavy schedule in the parish of Novalices (Quezon City), he did not pursue the extra requirements for a degree. He was also a youth counselor in the Tatalon squatter area where he had worked before.
Father Fries served as Local Superior and Regional Financial Assistant at the Center House in Sasa, Davao from 1987 through 1991.  He was greatly appreciated by all of the employees for his friendly disposition and sense of fairness. That same appreciation was expressed by all of the Maryknollers and the members of different religious communities in residence at the Maryknoll Language School for his hospitality and congeniality. After three years in this position he took up work in the large urban parish of Holy Trinity in Sampaloc, Manila. Among other things he was greatly appreciated by the parish priest for systematizing the finances of the large parish school.
In July 1994, Father Fries was assigned to the United States and to the Development Department. His years on promotion were all spent in Los Angeles, California, from which he covered southern California, Arizona and Nevada. He was always a welcoming presence in the Los Angeles house on Adams Boulevard.  He was named Director of the house in July 1997.
Father Fries returned to the Philippine Region in October 1998, and was requested by the Superior General to pursue an MBA degree.  In January 2001, he graduated summa cum laude from the Ateneo Business School in Makati, Metro Manila, and in March 2001 was assigned to the United States to take up duties as Assistant Treasurer at Maryknoll, New York.
In May 2004, Father Fries was appointed as Director of the newly created Mission Education and Promotion Department.  In September 2006 he was appointed Internal Auditor and remained in this position for three years, after which he was assigned to the Asia Region and to the Hong Kong/China Local Group, effective December 2009.  He spent his first year in the Region studying Mandarin Chinese at the Maryknoll Language School in Taipei, Taiwan, after which he was assigned to university work in Jilin City, Jilin Province, Peoples Republic of China.
Father Fries was assigned to the Retirement Community effective March 1, 2013, and shortly thereafter returned to the United States.
A Memorial Mass was concelebrated in Queen of Apostles Chapel on May 14, 2014 at 11:00 a.m., with Father Michael Walsh as Principal Celebrant and homilist.  According to Father Fries' wishes, he was cremated.  Father Edward Dougherty presided at the placement of Father Fries' cremains in the Columbarium at Maryknoll, New York.  A Memorial Mass was also celebrated in Davao, Philippines on April 30, 2014 for the many friends of Father Fries, with Father William LaRousse as Principal Celebrant.