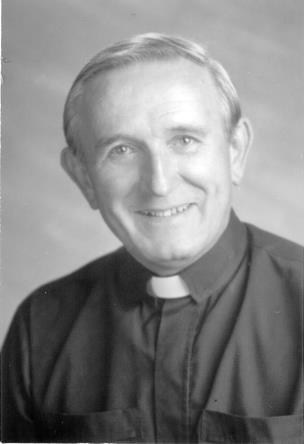 Father Richard S. Kardian, MM
Born: March 12, 1929
Ordained: June 9, 1956
Died: January 19, 2015
Father Richard S. Kardian died on January 19, 2015 at Mission St. Teresa's, Maryknoll, New York.  He was 85 years old and a Maryknoll priest for 58 years.
Richard Stephen Kardian was born on March 12, 1929, in Cleveland, Ohio, son of Stephen and Josephine Blatnica Kardian.  He had two sisters:  Sister Mary Neil, S.N.D., and Patricia Washington.  Upon graduating from Benedictine High School he entered Maryknoll in September 1947.  He received a B.A. in Philosophy from Maryknoll College, Glen Ellyn, Illinois in 1951, and subsequently an S.T.B. in Theology and a Masters in Religious Education, both from Maryknoll Seminary, New York.  He was ordained on June 9, 1956 at Maryknoll, New York.
Father Kardian was assigned to Japan in June 1956.  After language school he served as assistant in several parishes before being assigned as Pastor of Nishijin parish in Kyoto in October 1965.  In July 1969 he began an assignment as head of the Tokyo Society House, and in May 1971 he was assigned as pastor of the Muroran parish.
In December 1974, after working in Japan for eighteen years, Father Kardian was assigned to Hawaii.  He served as Assistant Regional Superior in Hawaii from October 1980 until September 1983.
In September 1991, Father Kardian was assigned to the U.S. Region and to the Development Department.  Although he retired in 1997, he continued to work in Development until April 2000, when he joined the Retirement Community.  He resided at the Society House in Cleveland, Ohio where he continued to help to set up church dates, until moving to St. Teresa's Residence in 2009.
Wake services were held at 4:00 p.m. on January 22, 2015 at St. Teresa's.  Father Kardian's family received condolences and prayers at 10:00 a.m. on January 23, 2015 in the Lady Chapel.  The biography was read by Brother Thomas Hickey.  A Mass of Christian Burial was concelebrated in Queen of Apostles Chapel on January 23, 2015 at 11:00 a.m.  Father Kevin Hanlon was Principal Celebrant and homilist.  Burial followed in Maryknoll Society Cemetery with Father Joseph Everson conducting the graveside service.