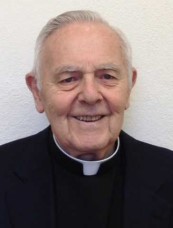 Father Richard T. Ouellette
Born: April 7, 1931
Ordained: June 8, 1963
Died: February 20, 2020
Father Richard T. Ouellette died on February 20, 2020 in the Assisted Living Center at Maryknoll, New York.  He was 88 years old and a Maryknoll priest for 56 years.
Richard Timothy Ouellette was born in Waterbury, Connecticut, on April 7, 1931, to Rosario S. and Antoinette Marie Heroux Ouellette.  He had one brother and five sisters.  One other sister died in infancy.  He attended Sacred Heart Elementary School and graduated from Sacred Heart High School, both in Waterbury, Connecticut.  After high school, he attended Fordham University College of Pharmacy from September 1949 until 1951, when he joined the U.S. Navy, serving as a Hospital Corpsman First Class until his honorable discharge on January 19, 1955. On September 6, 1955 he entered Maryknoll at Glen Ellyn, Illinois, where he earned a Bachelor of Arts degree in Philosophy in June 1958. He earned a Master of Divinity degree in Theology at Maryknoll Seminary. Father Ouellette was ordained a priest at Maryknoll, New York on June 8, 1963.
In June 1963 Father Ouellette received his first Society assignment to the Peru Region.  After language study in Cochabamba, Bolivia, he returned to Peru and served there in various parishes, giving youth formation retreats until 1975.  He served as Regional Coordinator from 1970 through 1974, was elected Chapter Delegate from the Peru Region and attended the 1972 General Chapter.  He also served as 1st Consultor to the Regional Superior for three years.  In July 1975 he was assigned to the new Maryknoll Mission Unit in Brazil, where he served as Spiritual Director in the newly formed Missionary Seminary in Novo Iguacu.  He was subsequently named as the Vocational Director of the Diocese of Novo Iguacu until that area was combined with the work already being done in Sao Paulo.  Father Ouellette worked as Director of the Catechetical Center there until 1985, when he was appointed Executive Secretary to the General Council in the U.S.  He held this position until 1987.
Father Ouellette elected to join the Bangladesh Mission Unit in July 1987.  Following language studies, he was assigned as Vice Rector of the Archdiocesan Minor Seminary.  He also served as Bangladesh Unit Coordinator beginning on January 1, 1992.  In 1994 he joined the U.S. Region and was assigned Assistant to the Procurator General in Rome for one year.
Beginning in July 1995 Father Ouellette worked on the West Coast in various capacities; first in the Development Department assigned to the Seattle House, then on the staff at Los Altos.  In November 2001 Father Ouellette joined the Retirement Community (now known as the Senior Missioner Community) and was assigned as Chaplain to the Maryknoll Sisters Retirement House in Monrovia, California.  He had resided at the Maryknoll Residence in Los Altos, California.
In the spring of 2018, Father Ouellette moved to the Society Center at Maryknoll, New York.
A Rosary and wake service was held at 4:00 p.m. on February 27, 2020 in the Holy Spirit Chapel at the Maryknoll Society Center.  The biography was read by Father John Gorski.  Father Ouellette's remains were transferred to the Lady Chapel on February 28, 2020 at 9:30 a.m., where his family received condolences and prayers until 10:45 a.m.  Mass of Christian Burial followed at 11:00 a.m. and was concelebrated in Queen of Apostles Chapel.  Father Michael Casey, a family member, was Principal Celebrant and homilist.  Burial followed in Maryknoll Society Cemetery with Father Thomas O'Brien conducting the graveside service.