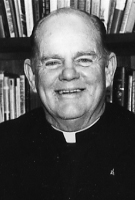 Father Robert C. Bayne, MM
Born: April 7, 1929
Ordained: June 8, 1963
Died: August 14, 2009
Father Robert C. Bayne died on August 14, 2009. He was 80 years old and a Maryknoll priest for 46 years.
Robert Cornell Bayne was born in New Haven, Connecticut on April 7, 1929, son of John and Margaret Cornell Bayne. He had one brother and two sisters. He attended Truman Elementary School and Hillhouse High School, both in New Haven, CT. He served in the United States Naval Reserve from May 14, 1948 to May 13, 1957. After a year at Fairfield University in Fairfield, CT, he entered Maryknoll College in Glen Ellyn, Illinois on June 19, 1955. He held a BA in Philosophy from Maryknoll College (1958), Glen Ellyn, Illinois and a MRE in Theology from Maryknoll School of Theology, (1963) Maryknoll, New York. While a seminarian, he entertained his fellow students with his magic shows.
Following ordination on June 8, 1963, Father Bayne was assigned to the Philippine Region. After language studies, he worked as a parish priest in Cateel, Davao Oriental; Monkayo, Del Norte and Maco, Davao Del Norte. In 1967 he became Chaplain for the Davao Penal Colony where he worked with illiterate prisoners at the Functional Literacy Center. He taught Group Dynamics at the University of Mindanao and published the first Davaoweno newspaper in 1971. He was instrumental in the building of an Islamic Adult Education Center in Tarragona in 1971. As pastor of Sigaboy Davao Oriental he established the Seven Churches of Sigaboy and taught Group Dynamics at the Asian Social Institution in Manila.
In 1977 Father Bayne went to Indonesia and started work in Kalimantan on the island of Borneo. He served as parish priest in Banjarmasin and in Ampah/Central Kalimantan. In 1982 he was assigned to work in Jakarta where he was the pastor of the expatriate community which served several thousand families. He established a Marriage Encounter Movement and a CCD program for the ex-patriot community.
In 1989 Father Bayne was assigned to the Maryknoll Development Department where he served as the Director of the Maryknoll Denver Development House and worked with the Habitat for Humanity program in the area. After four years, in 1993 he was assigned to the Hong Kong Region to teach in China. He began teaching English at the Wuhan Hubei Medical University to doctors, nurses and scientists who were going to America, and it was here that he began the Clergy Vestment Center. In 1997 he was assigned to the Zhangjiang Teachers College and remained there for three years before teaching high school at the Beijing/Chaoyang Foreign Language School in 2000. He also taught English at Wuyi University, Xinhui Branch College of Science & Technology in Xinhui City, China where he also began the Student Union Language Center. In 2004 he returned to the Zhangjiang Teachers College, and in 2007, when he was leaving Hong Kong for a new assignment, received a letter from the President of the University thanking him for "your inspiring instruction and the contributions you made" to the University. Father continued his work in Hong Kong until June 2008, when he began a new assignment in Bangkok, Thailand. After a short time after his arrival in Bangkok, he began teaching Buddhist monks, and within days had remodeled a room in the temple to serve as a classroom. Brother John Beeching, M.M. said of Father Bayne: "he was a born teacher"and to sum him up, 'f'eisty' he was a feisty missioner all the way to the end." When his mother died on June 29, 2009 he returned to the United States and was visiting his sister at the time of his death.
Wake services were held at 4:30 p.m. on August 19, 2009 at St. Teresa's and at 7:30 p.m. in Queen of Apostles Chapel at Maryknoll Center where Father William Coy officiated and Father John J. Casey read the biography. Mass of Christian Burial was concelebrated in Queen of Apostles Chapel on August 20, 2009 at 11:00 a.m. Father Clyde Phillips was Principal Celebrant and homilist. Burial followed in Maryknoll Society Cemetery with Father Jose Aramburu conducting the graveside service.