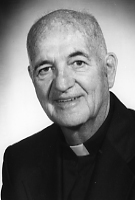 Father Robert E. Kearns, MM
Born: March 15, 1918
Ordained: June 11, 1944
Died: February 27, 1995
Father Robert Emmett Kearns died at 7:30 P.M. on Monday, February 27, 1995 at St. Teresa's Residence. He was 77 years old and a Maryknoll priest for 51 years.
Robert J. Kearns was born on March 15,1918 in Yonkers, New York, son of John Joseph and Theresa Gorman Kearns. There were also two brothers and two sisters in his family. He attended Cathedral College for one year and graduated from Mt. St. Michael High School in June 1935. He studied for three years at Fordham University in New York City. Robert entered the Maryknoll Apostolic College (Venard), in Clarks Summit, Pennsylvania in September 1938, and was ordained a priest at Maryknoll Seminary, Ossining, New York, on June 11, 1944.
The same year Father Kearns was assigned to the Maryknoll Mission in Puno, Peru, South America. Through the years there he acquired an excellent facility in both the written and spoken Spanish language, and did some studies in the Aymara and Quechua languages. In 1945 he was appointed Rector of the Puno Minor Seminary and Director of Camp Puno, a Church summer camp for boys near Arequipa. Later he was appointed First Consultor to the Peru Group Superior. On September 10, 1952 he was placed in charge of the construction of a new Major Seminary in Cusco, Peru. The seminary project was postponed in 1954 but Father Kearns continued to develop his creative apostolates in Puno.
Father Kearns worked in several Puno area parishes replacing men on furlough for about three years. In June of 1957 he was appointed Pastor of San Juan Bautista Parish in Puno. He was a vigorous worker, always on the go with many ideas, much initiative, and a good administrator. While still Pastor of San Juan, in 1963 he was appointed Coordinator of the new Radio School Project (Escuelas Radiofonicas Del Peru). He developed a radio station, 'Onda Azul' to broadcast in the Spanish, Quechua and Aymara languages courses in religion, arithmetic, history, geography, and civics among the population of the Peruvian Altiplano. The Radio Schools drew wide praise and the support of the Peruvian government's Ministry of Education. Radio 'Onda Azul' continues to make a major contribution to the Church's evangelization efforts in the southern Peruvian highlands. Besides the Radio Schools, Father Kearns was involved in the Food for Peace Program to provide breakfast and lunch for thousands of poor school children. Father Kearns was also instrumental in introducing the first television station in the Puno area.
In 1967 he received a silver medal from Pope Paul VI for his service as a Vatican Observer at two international meetings on youth and literacy sponsored by the United Nations. As a hobby he began to write a history of the Maryknoll Mission in Peru from 1943 to 1953. This involved a great deal of research and careful study. As a result, in 1985 he published four large volumes of the history and he was working on a fifth volume at the time of his death.
In 1968 Father Kearns was appointed Coordinating Secretary of the Social Communications Commission of the Peruvian National Episcopal Conference taking up residence in the Society House in Lima, Peru. Thus he became deeply involved in mass social communications, specifically in radio, TV and the press on a local, regional and national scale. In the aftermath of the devastating earthquake in northern Peru in 1970 Father Kearns played a key role in establishing a short wave radio network to aid the Church's relief efforts. In 1974 he became Executive Director of the National Office of Radio and Television of the Peruvian Episcopal Conference, a position he held until 1989. Also in 1974 he took part in the Clinical Pastoral Education (OPE) course at Bellevue Hospital in New York City. He returned to Puno and continued in his social communications work for the next twenty years. In 1977 he took part in the Mission Renewal Program at Maryknoll, New York. Until his departure from Peru in late 1994, he was a pastoral assistant of a sector of a very poor area in Villa El Salvador in Lima's southern area where he was much loved by the people. He had nearly completed the construction of a small chapel there called Our Lady of the Rosary.
Although his health began to slow him down, it never affected his love for Peru, the people, Maryknoll and his missionary priesthood. On October 1,1994 Fr. Kearns was assigned to the Special Society Unit with residence at St. Teresa's.
Wake services will be conducted by Fr. Alan Ryan, M.M. in St. Teresa's on Wednesday evening, March 1st, at 7:00 P.M. and in Our Lady Queen of Apostles Chapel at 7:30 P.M. Fr. George Painter, M.M. will be principal celebrant and Fr. Joseph Lang, M.M. will be homilist at a Concelebrated Mass which will be offered on Thursday, March 2nd at 11:30 A.M. in Our Lady Queen of Apostles Chapel at Maryknoll, New York. Graveside services will be conducted by Fr. Leo Shea, M.M. in the Maryknoll Society Cemetery at the Center.