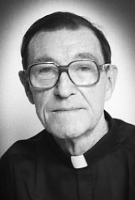 Father Robert E. Lee, MM
Born: May 16, 1916
Ordained: February 7, 1943
Died: June 10, 1999
Father Robert E. Lee died on June 10, 1999 at St. Teresa's Residence, He was 83 years old and a Maryknoll priest for 56 years.
Robert Edward was born in Brooklyn, New York, on May 16, 1916, eldest son of Robert E. and Mary Elizabeth Lee. His family consisted of three brothers and one sister. His early education was in Brooklyn at St. Paul's Parochial School, St. John's Home, and St. Augustine High School. He graduated from St. Augustine's in June 1933 with a four-year scholarship to St. Francis College, Brooklyn. He completed four years of studies at St. Francis, and secured his Bachelor of Arts degree in Philosophy in June 1937. He entered Maryknoll Apostolic College (Venard), Clarks Summit, Pennsylvania, on September 7, 1937, and was ordained a priest at Maryknoll Seminary in New York on February 7, 1943.
After ordination, Father Lee was assigned to the new Maryknoll Mission in Quintana Roo, Yucatan, Mexico. His entire mission career was spent in Mexico. After Spanish language and cultural studies in Merida he was assigned as Assistant Pastor and later Pastor in Carrillo Puerto, Quintana Roo. Most of Father Lee's pastoral work was in rural areas among Mayan people to whom he traveled the trail on mule-back to visit in their villages. He learned Mayan language very well so as to be close to his people, and started many social projects to help the people of the villages in his area. It was because he spoke the Mayan language so well that he gained their confidence and friendship, and trained a group of catechists.
On November 11, 1950 Father Lee was appointed Group Superior for the Maryknollers serving in Yucatan, which entailed dealing with the local Hierachy, as well as managing his parish. In November of 1951 he was transferred as Pastor to the parish in Tzucacab. On August 10, 1953 he was appointed Society Superior of the Maryknollers in Mexico and Guatemala. In April of 1958 he became Pastor of Santa Clara Parish in Dzidzantin where he quickly restored the run down parish and established a credit union among the people. In June of 1962 he was transferred as Pastor of San Francisco Javier parish in Sotuta, Yucatan. There he established an Agricultural Production Cooperative among the people. In October of 1968 he suffered a mild stroke which slowed him down but never stopped his apostolic work. During the 1970s Father Lee became involved in the Charismatic movement. With the aid of faithful parishioners he established charismatic groups in the Unidad Independencia, Arenal and Ampliacion parishes, in Los Reyes, La Paz.
After 40 years of parish ministry Father Lee opted to enter the Special Society Unit on March 11, 1983, with residence and limited pastoral work in Mexico City. On September 11, 1990 he retired to St. Teresa's Residence at Maryknoll, New York. In late 1993, Father Lee, at the invitation of members of the Charismatic prayer community in the Cristo Obrero Parish, was able to make a short visit to Mexico. He returned to St. Teresa's in early 1994.
Father Lee was a prayerful person. He was delighted with a family celebration of his 83rd birthday at St. Teresa's. About thirty five people gathered to commemorate the happy occasion.
Wake services were held on Monday, June 14, 1999 at 7:00 p.m. at St. Teresa's Residence Chapel, and at 7:30 p.m. at Queen of Apostles Chapel at Maryknoll Center where Father J. Gerard Greene officiated. Mass of Christian Burial was concelebrated at Queen of Apostles Chapel on Tuesday, June 15, 1999 at 11:00 a.m. Father Martin Keegan was Principal Celebrant and Father Francis Garvey homilist. Burial followed at Maryknoll Center Cemetery with Father Thomas Henehan conducting the graveside service.