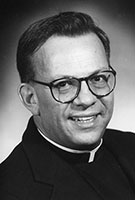 Father Robert F. Astorino, MM
Born: May 27, 1943
Ordained: May 23, 1970
Died: June 25, 2020
Father Robert F. Astorino died on June 25, 2020 at Westchester County Medical Center. He was 77 years old and a Maryknoll priest for 50 years.
Robert Francis Astorino was born on May 27, 1943, in the Bronx, New York, the son of Louis and Mary Astorino. He had two brothers and one sister. He was in the first class of St. Clare of Assisi grade school in the Bronx and graduated from Regis High School in Manhattan in 1961. That same year, he entered Maryknoll.
He received a B.A. in philosophy from Maryknoll College, Glen Ellyn, Illinois, a Masters in theology from Maryknoll, and a Masters in sociology from Fordham University. After he was ordained on May 23, 1970, Father Astorino completed a Masters in journalism at Columbia University Graduate School of Journalism in New York City.
In 1971, he went on assignment to Hong Kong. After Cantonese language study, Father Astorino and other Maryknollers in the Kwun Tong area of Kowloon conducted research on the situation of youth, many of them children of refugees from mainland China.
Beginning in 1974, he was involved in the social communications apostolate in Hong Kong and throughout Asia. He helped launch the Hong Kong Catholic Social Communications Office and was its assistant director for several years. He served in various positions in the Asia branches of several international Catholic media organizations, including the East Asia Catholic Press Association. He also taught journalistic writing at the Chinese University in Hong Kong 1975-1977.
After conducting a feasibility study on Church information needs in Asia, he was influential in launching UCA News (Union of Catholic Asia News, UCAN), Asia's largest Catholic news service and one of the largest in the world. It had hundreds of reporters, full-time offices in more than a dozen countries, and part-time bureaus all over Asia and at the Vatican. The main UCA News website (www.ucanews.com) carried news reports, photos and other services in various languages, and provided links to other UCAN-sponsored websites regarding the Church in Asia.
Except for a brief assignment in New York (1983-1984) to help conduct Maryknoll's Telecommunication/Informatics Study, Father Astorino served as Executive Director of UCA News for three decades. For several years, he was a consultor to the Pontifical Council for Social Communications.
Through the years, Father Astorino devoted much of his time and energy to training UCAN personnel as well as other Church communication workers across Asia. He was instrumental in helping help young UCAN reporters learn about the Second Vatican Council and apply its teachings to their journalism work.
Father Astorino returned to the U.S in 2019 and was assigned to the Senior Missioner Community in January 2020 and resided at the Maryknoll Society Center.
A Mass of Christian Burial was celebrated in Queen of Apostles Chapel on June 30, 2020, at 11:00 a.m. Father John McAuley was Principal Celebrant and homilist. Father Timothy Kilkelly read the Oath and biography. Burial followed in the Maryknoll Society Cemetery.