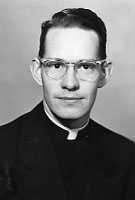 Father Robert F. Baudhuin, MM
Born: April 6, 1927
Ordained: June 12, 1954
Died: January 11, 2003
Father Robert F. Baudhuin died on the evening of January 11, 2003 at St. Teresa's Residence, Maryknoll, New York. He was 75 years old and a Maryknoll Priest for 48 years.
Robert Francis Baudhuin was born in Sturgeon Bay, Wisconsin, on April 6, 1927, son of Sylvan Joseph Baudhuin and Marie Elizabeth Carmody. He had two brothers and two sisters, one of whom is Sister Ruth Baudhuin, CSJ. He attended St. Joseph's Parochial School in Sturgeon Bay and graduated on June 6, 1945 from St. Norbert High School in West De Pere, Wisconsin. Due to overcrowded conditions at Maryknoll Apostolic College (Venard) in Clarks Summit, Pennsylvania, Bob, along with 25 other Maryknoll candidates, was sent to Loras College, in Dubuque, Iowa on September 16, 1945. Two years later he moved to Maryknoll Seminary in Ossining, New York, and obtained his Bachelor of Arts degree in Philosophy. He was ordained a priest with his 39 classmates on June 12, 1954 in the Chapel of the Annunciation at the Maryknoll Sisters Motherhouse.
After ordination, Father Baudhuin was assigned to the Maryknoll Mission Region in Taichung, Taiwan. He studied the Taiwanese language for the first year in Taichung, and then was assigned as Assistant Pastor of Lotsu Parish in the Taichung Prefecture. For the next 19 years he served among the aborigine people in the isolated mountain villages of Taiwan. At that time they had no written language, but in the years ahead he worked on three of the tribal dialects. In 1957 he became Pastor of the mountain Parish of Puli. In 1959 he was appointed Pastor of Jinai Hsiang Parish, considered an isolated and difficult parish in the Prefecture. In 1960, while on furlough, Father Baudhuin studied Mandarin at Yale University in New Haven, Connecticut. In June 1961 he became Pastor of the parish of Mei Hsi in Nantou Hsien. In 1963 he moved back to the Wu She parish. In 1964 he was appointed Pastor of the Chun Yang Parish.
While on home furlough in 1966 he studied anthropology and linguistics at the University of Wisconsin in Milwaukee. Upon his return to Taiwan in 1967 he went back to Chun Yang Parish as Pastor. Because of his expertise in the tribal languages he was able to produce written translations of the Gospels and the prayers of the Mass in the native languages for use in his parochial programs and for use by other missioners. These translations were the first books written in the aborigine dialects. Through it all he acquired a remarkable ability to the native culture. In August 3, 1968 he returned home on sick leave. In November 1968 after his return to Taiwan he was appointed Pastor of Wu She parish.
In 1972 the Maryknoll Fathers expanded their mission work through experimental Mission Units. Father Baudhuin volunteered to serve in the new Indonesian Unit and on December 6, 1973 he was assigned to the Unit and thus began a totally new mission career, quite different from Taiwan. It meant learning a new language and embracing a new people. His first six years were in Jakarta, the nation's Capital city. In January 1980 he was assigned to serve the Asmat people in the remote and extremely primitive town of Pinmapun in the Diocese of Agats in Irian Jaya. In the late 1980s he became involved in translating the Gospels into the Asmat language. In June 2002, Father Baudhuin returned to the United States for medical treatment and lived at St. Teresa's Residence. At the time of his death, Father Baudhuin had served for over 28 years in Indonesia, twenty-two of them in Irian Jaya.
Wake services were held at 4:30 p.m. on January 14, 2003 at St. Teresa's, with Father Thomas Ahearn officiating, and at 7:30 p.m. in Queen of Apostles Chapel at Maryknoll Center where Father Daniel Dolan officiated and Father Lawrence Lewis read the biography. Mass of Christian Burial was concelebrated in Queen of Apostles Chapel on January 15, 2003 at 11:00 a.m. Father John Wymes was Principal Celebrant and Father Richard Baker homilist. Burial followed in Maryknoll Society Cemetery with Father Francis McGourn conducting the graveside service. A memorial service was held in Father Baudhuin's hometown of Sturgeon Bay, Wisconsin.