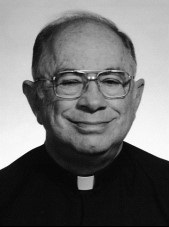 Father Robert F. Crohan, MM
Born: May 30, 1933
Ordained: June 9, 1962
Died: February 19, 2019
Father Robert F. Crohan died on February 19, 2019 at Mount Sinai Hospital in New York, New York.  He was 85 years old and a Maryknoll priest for 56 years.
Robert Francis Crohan, son of Francis and Rose Schlefstein Crohan, was born in Riverhead, New York on May 30, 1933.  He had one brother and one sister.  His elementary and high school education was in the Riverhead School system, and, after graduation, he attended Eastman School of Music at the University of Rochester for two years before joining Maryknoll in September 1953.  He holds a Bachelor of Arts degree in Philosophy (1957) from Maryknoll College in Glen Ellyn, Illinois and an STB in Theology (1961) and a MRE (1962) in Sacred Scripture from Maryknoll Seminary, Maryknoll, New York.
Father Crohan was ordained on June 9, 1962 and assigned to Special Studies.  He received a Masters of Music from the Catholic University in Washington, D.C. in 1963 and was assigned to the faculty at Glen Ellyn.  In July 1969, Father Crohan was assigned to the Central America Region and worked in Guatemala.  After language studies, he was assigned to Santa Ana Parish in Guatemala City.  While there, he also taught at San Carlos University, the national Guatemalan University in Guatemala City and conducted a choir and National Symphony Orchestra in that city.  Father Crohan worked for many years in the San Pedro Necta Parish of the Huehuetenango Diocese.  After a brief period in the Peten Diocese, Father Crohan was assigned to San Juan Alotenango Parish in the State of Sacatepequez, where he worked from 1984 until 1992 when he was transferred to San Mateo Parish in the town of Santa Catarina Pinula, near Guatemala City.
Father Crohan was granted retired status on January 1, 1998, with residence in the Mayan town of Santiago Chimaltenango, where he continued to do pastoral work and study music, scripture and theology.  In 2010, Father Crohan returned to the United States and in November of that year was assigned to the Retirement Community (now Senior Missioner Community) and resided at the Maryknoll Society Center.
A Rosary and wake service was held on February 25, 2019 at the Holy Spirit Chapel at the Maryknoll Society Center.  Father Crohan's remains were transferred to the Lady Chapel on February 26, 2019, where his family received condolences and prayers.  The biography was read by Br. Wayne Fitzpatrick.  Mass of Christian Burial followed and was concelebrated in the Queen of Apostles Chapel.  Father Robert Lloyd was the Principal Celebrant and Father Joseph La Mar was the homilist.  Burial followed in the Maryknoll Society Cemetery.