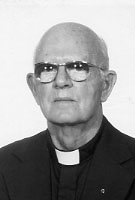 Father Robert F. Fransen, MM
Born: January 22, 1915
Ordained: June 21, 1942
Died: January 16, 1984
The great deeds of missionaries are often forgotten after death. We hope that the heroic trips of our earlier missionaries in the Pando, visiting the Beni River settlements, will never be forgotten. We hope that the life of Father Robert Fransen, who dedicated a great part of his life to the people of the Pando Vicariate, will long be remembered. His sense of responsibility to this part of the missionary world brought out his fine traits of fidelity, generosity, initiative and a habit of Industry.
Even though Father Fransen had suffered illnesses in the last years of his life, he wanted always to be accomplishing something for Maryknoll. On the 14th of January, death came to Father Robert as he was helping Out in our Development House in Gainesville, Florida. Father Fransen died suddenly in the Alachua General Hospital in Gainesville. Father Ernest Brunelle was with him at the time of death.
Being the only child, Robert was born to Francis and Bridget Fransen on January 22nd, 1915, in Aberdeen, S. Dakota. As a young man he gave much thought to some sort of religious life. He thought that perhaps he might become a Holy Cross Brother, a Holy Cross priest, a Diocesan priest for the Diocese of Great Falls, Montana, or a missionary priest. After studying for five years in St. Edward's Seminary in Seattle, after having read many standard books on missionary life, and after having spoken with Father Tibesar and Bishop James E. Walsh, he entered the Novitiate in September, 1938.
After his ordination in 1942, he was assigned to the Pando Vicariate where he spent most of his missionary life, except for a few years as Procurator in the La Paz house. In Riberalta he served as Procurator and Hospital Chaplain. In Fortaleza he spent many hours on the Beni River taking care of river settlements. He also had the responsibility of a Consultor and Vicar Delegate to Bishop Danehy. He was excellent in Spanish and translated many pamphlets into English. Due to an illness, he was asked to return to the States in 1977 for medical treatment. Since that time he lived at St. Teresa's and worked in the St. Louis and Gainesville houses as a member of the U.S. Region.
Cardinal Gibbons has written: "Cheerfulness is the daughter of innocence and charity. A cheerful disposition contributes much to the rational enjoyment of life. Cheerfulness imparts a certain elasticity to our spirits, and a spring to our movements." These words in many ways sum up a principal aspect of Father Fransen's life. He had a good sense of hospitality. He was always thoughtful of others. He tried to make others comfortable, and gave one the feeling of being 'at home', It was most likely his sensitivity to others that prompted him to bequeath his body for medical research.
The Funeral Mass took place in the Center Chapel on January 17. Principal Concelebrant was Father Joseph Hahn, the Homily was given by Father Eugene Toland and the Biography read by Father Arthur Brown.