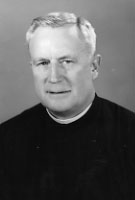 Father Robert H. Winkels, MM
Born: October 30, 1913
Ordained: June 22, 1941
Died: January 11, 2003
Father Robert H. Winkels died in the evening of January 11, 2003 at St. Teresa's Residence, Maryknoll, New York. He was 89 years old and a Maryknoll Priest for 61 years.
Robert Henry Winkels was born on October 30, 1913 in St. Paul, Minnesota, son of Robert and Caroline Geering Winkels. After graduating from High School he attended the Nazareth Hall College Seminary in St. Paul for two years and then in 1934 entered Maryknoll Junior Seminary (Venard) at Clarks Summit, Pennsylvania. He was ordained a priest at Maryknoll Seminary in Ossining, New York, on June 22, 1941 and assigned to the Maryknoll Mission in Kongmoon.
In December of 1941 Father Winkels was interned in the Fort Stanley Japanese Internment Camp in Hong Kong for nine months and then released in 1942. He made his way inland to Wuchow in a very roundabout way as part of South China was occupied by Japanese military. He studied the Chinese language for eight months and then served in various Kongmoon area parishes. In late 1944 the Japanese drove inland to destroy newly built airfields and all Maryknoll mission areas were cut off. On foot, by boat, and by air he went to Kunming in western China and signed on as an Auxiliary Chaplain, serving in the Saiween campaign to re-open the Burma Road. The campaign ended successfully in March 1945 and Father was then stationed at a large airbase east of Kunming until the war ended on August 15, 1945. Recognizing his bravery in aiding American fliers and soldiers behind enemy lines, a grateful government awarded him the U. S. Emblem for Meritorious Civilian Service.
After the war, Father Winkels was assigned to assist another Maryknoll priest at Gate of Heaven Leper Asylum in Kongmoon (1945-48). He then traveled to remote areas of South China to shoot the Maryknoll film, "The Miracle of Blue Cloud County", which tells the story of the first American missioner to enter that region of China.
In 1950, after being expelled from China by the Communists, Father Winkels was assigned to Maryknoll's mission work in Hawaii where he served for over 30 years. During that time he was assigned to several parishes on the various islands. His first assignment was to St. Benedicts on the island of Hawaii. There was no electricity at St. Benedicts, and so Father Winkels bought a surplus generator from the government and soon they had electricity! From South China. 1952 through 1956 he was pastor of Sacred Heart Parish in Naalehu, then pastor of St. Philomena Parish near the Honolulu Airport. While on furlough in 1958 he served as chaplain for the Catholic construction men in Greenland. Returning to Hawaii, he served as pastor of Sacred Heart Parish in Hawi, Kohala on the Island of Hawaii until 1971. From 1971 through 1978 he was Pastor of St. John the Baptist Parish in Kalihi. While in Hawaii Father Winkels eamed his license as a Glider and Motor Pilot and became a Major in the Civil Air Patrol, where he taught Glider Pilots. He was also known as an expert hang-glider.
In June 1981 he retired to the Special Society Unit with residence in Los Altos, California where he helped out in local parishes. In February 1995, he moved to St. Teresa's Residence in New York.
Wake services were held at 4:30 p.m. on January 16, 2003 at St. Teresa's, with Father Thomas McDonnell officiating, and at 7:30 p.m. in Queen of Apostles Chapel at Maryknoll Center where Father George Ratermann officiated and Father Michael Simone read the biography. Mass of Christian Burial was concelebrated in Queen of Apostles Chapel on January 17, 2003 at 11:00 a.m. Father William Coy was Principal Celebrant and Father Joseph McGahren homilist. Burial followed in Maryknoll Society Cemetery with Father Francis McGourn conducting the graveside service.