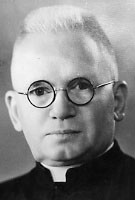 Father Robert J. Cairns, MM
Born: August 21, 1884
Ordained: May 18, 1918
Died: December 14, 1941 (presumably)
Robert J. Cairns was born in Glasgow, Scotland, on August 21, 1884. Shortly after his birth his family moved to America and settled in Worcester, Mass. Robert attended St. John's Parochial School and then went to St. John's High School but family financial difficulties forced him to take a steady job and to continue his education at night. He continued working for eight years until his desire to become a priest led him first into Holy Cross College and then to St. Mary's, finally to Maryknoll.
Robert was ordained on May 18, 1918 at the age of thirty-four. His first assignment was to the Venard and the following year he was named Procurator at the San Francisco house. Less than a year later he was sent to Yeungkong. It was there that his cheerful, optimistic perseverance became particularly noticeable. For the next twenty years language engaged a great deal of his boundless energy. He was not a proficient linguist by nature but it was his perseverance that made him successful.
In 1923 he was assigned to Fachow arid was joined by Father Charles Walker in 1924. He rented a pagan temple there for three years, turning it into a school which he named Holy Cross after his one time alma mater. In 1926 he was assigned to Sunchong. A few months later the mission was raided by a notorious bandit named Chan Chuk Saam and Fr. Cairns and Bishop Walsh were taken as prisoners.
In America on furlough in 1931 he spent most of his time doing promotion work in Southern and Western dioceses. On returning to China he was sent to Sancian Island. In 1938 Father Joyce was sent to the same place, enabling Fr. Cairns to take a vacation in Hong Kong. While he was in Hong Kong Canton was captured. Volunteers were needed to help the refugees. Father Cairns responded and acted as purchasing agent for the Canton Relief Committee until the spring of 1941. Then he returned to Sancian. War broke out on December 8 of that year and it was learned later through the American Embassy that on the same day a Japanese warship docked at Sheungwan Island, Fr. Cairns' mission. Entering the church they looted everything in it. On December 14 they again went to the church, kidnapping Fr. Cairns and his interpreter. Some months later Frs. Joyce and Lavin visited the Mandarin of Toi Shan district which includes the island of Sancian and requested an investigation. The Mandarin wrote Fr. Lavin he was convinced that Fr. Cairns met a violent death when he was kidnapped. The only tangible evidence found was Father's pith helmet found floating in the sea.