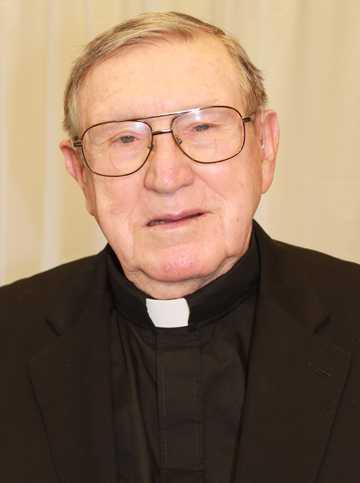 Father Robert L. Depinet, MM
Born: January 13, 1934
Ordained: June 10, 1961
Died: October 7, 2018
Father Robert L. Depinet died at Phelps Memorial Hospital, Sleepy Hollow, New York on October 7, 2018.  He was 84 years old and a Maryknoll priest for 57 years.
On January 13, 1934, Robert Louis Depinet was born in Kansas OH, son of Gabriel and Lucinda Reinhart Depinet.  He came from a large family of seven brothers and four sisters.  He attended St. Mary's Grammar School and Calvert High School in Tiffin OH where he graduated in 1952.  Robert began reading <em>The Field Afar</em> in his third year of high school and this gave a new direction to his desire to become a priest/missioner.  He joined Maryknoll on September 5, 1952 at Glen Ellyn IL and was ordained on June 10, 1961.
After ordination, Fr. Depinet was assigned to the Philippine Region where he entered Language School in Davao City to study Visayan.  He served in different parishes in the Prelature of Tagum (now a Diocese), including Triumph of The Holy Cross in Caraga and St. Ignatius of Monkayo.  Other parishes were in Tagum, Panabo, Mabini, Asuncion, and Mawab.  On October 30, 1962, barely three months after arriving in Caraga, Fr. Depinet set out for a short boat trip to the village of Manurigao for a Fiesta Mass, but he never arrived.  An extensive but futile search was launched by the Davao Flying Club.  With the help of God, nature, and their knowledge of sailing, Fr. Depinet and his four companions came to shore after three days.  His two adult companions walked to the village of Kabuaya, Mati and sent for help.  Word was sent to Davao and a U.S.A.F. plane brought Fr. Depinet and two young companions to Davao City.
In April 1964 Fr. Depinet was assigned to the new Novitiate at Hingham MA.  After a year he was reassigned to the Philippines.  Father spent the next twenty-three years working in the Tagum Prelature/Diocese, Davao del Norte.  In October 1988, he was assigned to the Ipil Prelature and the Parish of Our Lady of Fatima in Imelda, Zamboanga del Sur.  He was the last Maryknoller to leave Tagum Prelature, except for Bishop Joseph Regan.  In June 1991, he was assigned to the United States and the Development Department in Cleveland OH.  Once again Fr. Depinet was reassigned to the Philippines in December 1995, working in the Ipil Prelature in Zamboanga del Sur (soon to be Zamboanga Sibugay).  He served in parishes Sto. Niño in Malangas, Sto. Niño in Roseller T. Lim, and Nuestra Señora del Pilar in Diplahan and San José in Ipil.
Fr. Depinet returned to the U.S. Region with retired status on May 1, 2006.  For many years he helped out in Mission Education and Promotion work from July to October in the Diocese of Toledo OH as well as various other needs around Maryknoll NY and nearby parishes.  He was assigned to the Senior Missioner Community on April 1, 2017.
A Rosary and wake service was held at 4:00 p.m. on October 17, 2018 in the St. Teresa's Chapel in the Maryknoll Society Center.  Fr. Depinet's remains were transferred to the Lady Chapel on October 18, 2018, where his family received condolences and prayers.  The biography was read by Fr. Francis Felter.  Mass of Christian Burial followed at 11:00 a.m. and was concelebrated in Queen of Apostles Chapel.  Father Joseph Kowalczyk was Principal Celebrant and Father Ralph Kroes was homilist.  Burial followed in Maryknoll Society Cemetery with Father Thomas J. O'Brien conducting the graveside service.